Meet Me Monday: Alice Jaggers, UAMS Library
Posted by nnlmscr on October 17th, 2016
---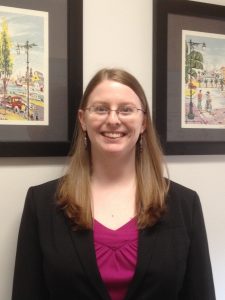 Alice Jaggers, MSLS, is the Outreach Coordinator at the University of Arkansas for Medical Sciences (UAMS) Library in Little Rock, AR. Her current work includes an outreach project to rural public library staff in the Southeast region of Arkansas and an outreach project to the Marshallese population in Springdale, AR. The project for the public library staff will include a train the trainer method to help staff be better able to assist with patrons' medical questions through National Library of Medicine resources. The project for the Marshallese population will include a train the trainer method for community health workers to assist their community in finding reliable health information.
Alice has a special interest in graphic medicine (comics, graphic novels, graphic memoirs, and manga about health related subjects) and highly encourages utilizing this medium for teaching health and health literacy. She recommends that every medical librarian read Graphic Medicine Manifesto by John Milton, Kimberly Rena Myers, M. K. Czerwiec, Michael Green, and Scott T. Smith, and Special Exits by Joyce Farmer. Also recommended is Graphic Librarian, a website created by Matthew Noe.
Contact Alice Jaggers at AJaggers@uams.edu or (501) 686-8022. Feel free to ask questions, especially about outreach projects or graphic medicine!
Be featured as part of our #MeetMeMonday series and share information about your position, program, or organization and connect with other network members and potential program partners!
ABOUT nnlmscr
Email author View all posts by nnlmscr