Meet Me Monday: Marilyn Goff, TWU – Houston Center Library
Posted by nnlmscr on October 31st, 2016
---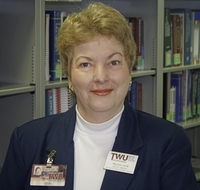 Marilyn Goff has been the librarian for the Houston campus of Texas Woman's University since 2000.
Marilyn manages a virtual library in the health sciences and supports about 2,000 faculty, staff, and students on the subjects of Business, Health Care Administration, Library & Information Studies, Nursing, Nutrition & Food Sciences, Occupational Therapy, Physical Therapy, and Management. TWU Houston focuses primarily on advanced degrees, but does have one undergraduate program for junior and senior BSN students.
Please visit TWU Institute of Health Sciences – Houston Center for more information!
Be featured as part of our #MeetMeMonday series and share information about your position, program, or organization and connect with other network members and potential program partners!
ABOUT nnlmscr
Email author View all posts by nnlmscr