Meet our 2020 LIS Fall Development Awardees!
Posted by E. Bailey Sterling on October 22nd, 2020
---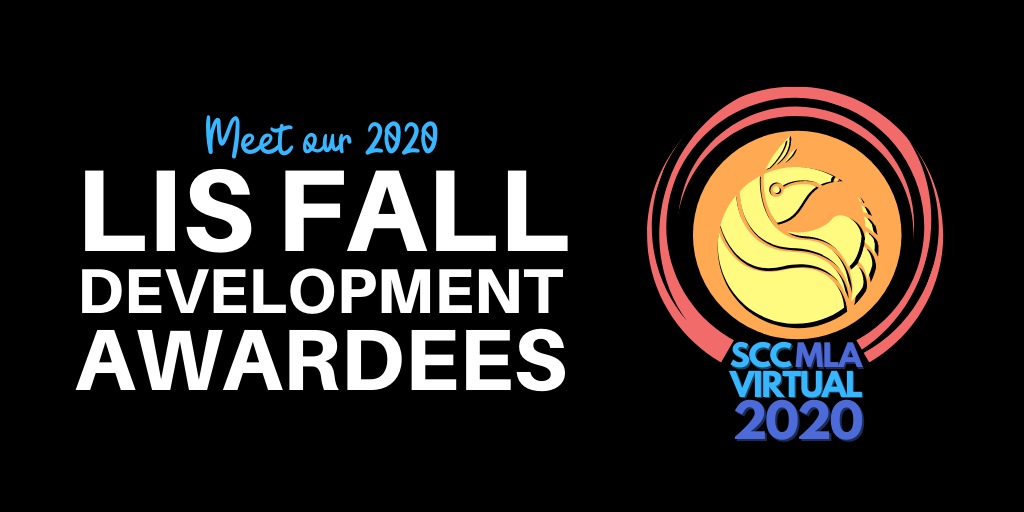 The SCC/MLA Virtual Conference is right around the corner, and we are thrilled to award two students the LIS Fall Development Award (formerly known as the Library Student Outreach Award). These students – both Information Science graduate students at the University of North Texas – have demonstrated an interest in health science librarianship and have proven through achievement and leadership that they are prepared to jump into this field head first. They have spent the last several weeks working closely with NNLM SCR Coordinators to develop a more comprehensive idea of what it means to be a health science information professional; we have enjoyed working with them and are excited to see what comes next in their academic and professional journeys.
Please join us in congratulating and welcoming Iram Fatima and Linda Delwood, MD!
Iram Fatima is a graduate student at the University of North Texas. She is originally from India and earned a bachelor's degree from the University of Houston in Biotechnology – Bioinformatics track. Iram is interested in data/information management and analysis in the healthcare industry to improve the patient care.
"I am looking forward to learning about the NLM as a resource and the opportunities it offers. I am also excited about meeting people from diverse groups of information professionals through this organization and learning more about their roles and contributions in the overall healthcare industry."  
Linda Delwood, MD is a graduate student at the University of North Texas, pursuing an MS in Information Science. She is a Pediatric Anesthesiologist, in independent practice for many years, in the Dallas metroplex. Linda graduated from UT Southwestern Medical School, 1985 and is Board Certified in Internal Medicine and Anesthesiology.
"When I was an Clinical Instructor, one of the Senior Professors, Dr. Gina Glick, obtained a Library Science degree so that she could manage the Anesthesia Library, maintained by the Department, at Parkland Memorial Hospital. I remember feeling envious that she could take time away from practice to do that. When online education became more established in the early 2010s I investigated further for myself, eventually deciding on the program at UNT. I have been very happy with my decision and the curriculum. I am hoping to transition into an administrative position, as Medical Information Officer."
Iram and Linda will be giving presentations at the SCC/MLA Virtual Conference at 2:30pm on Tuesday, October 27. See you there!
---
Remember to like NNLM SCR on Facebook and follow us on Twitter.
ABOUT E. Bailey Sterling
E. Bailey Sterling is a Digital Communications Specialist with the NNLM SCR and presently a graduate student pursuing an MS in Information Science specializing in Health Informatics from the University of North Texas (GMG!). She's also a Graduate Student Council Senator, Teaching Assistant, analog gamer, writer, and lifelong learner living in DFW. If you have anything you'd like to see featured on the NNLM SCR blog or social channels, please email Bailey.Sterling@unthsc.edu. We would love to hear more about what's happening at your library!
Email author View all posts by E. Bailey Sterling