New funding available NOW! COVID-19 Health Information Outreach Award
Posted by E. Bailey Sterling on August 3rd, 2020
---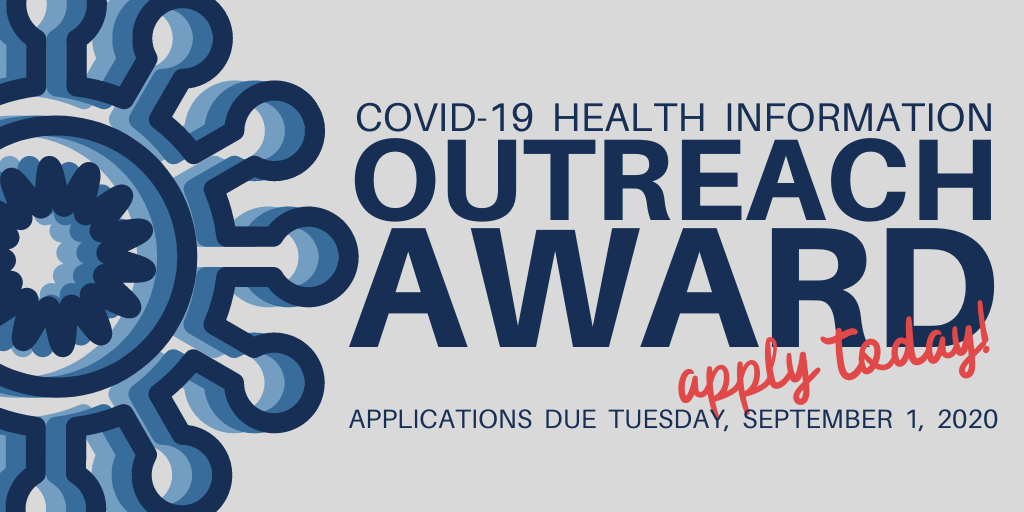 We at NNLM SCR strive to facilitate and provide opportunities to enrich your communities and improve the health outcomes of the people who live there. We offer a number of recurring awards each year to organizations who wish to organize projects or programs to do just that. This year, we are thrilled to announce an all-new award, the COVID-19 Health Information Outreach Award!
There exists an urgent need in communities throughout the South Central Region for patrons, consumers, educators, and trainers to have access to high-quality electronic information resources. We are living in a very different world from this time last year, and new challenges bring new opportunities. These awards, amounting to $20,000 each, will allow libraries to pilot and/or develop programming to help communities manage physical and mental health care decisions in the wake of the COVID-19 global pandemic. This also includes tools and training to manage information overload or combat misinformation.
Five (5) COVID-19 Health Information Outreach Awards are available, and applications are due September 1, 2020. Please visit the link below for more complete information on the award and how you can apply today!
COVID-19 Health Information Outreach Award
If you have any questions, please contact Deputy Director Debbie Montenegro (Debbie.Montenegro@unthsc.edu).
Additionally, we are currently accepting applications for the following awards:
Professional Development Award
Patricia Bradley Professional Development Award
Data Science Professional Development Award
As always, we look forward to reading your proposals and learning more about the plans, ideas, and vision you have to strengthen your communities! Thank you all for the hard work you continue to do. It's an honor to serve the NNLM South Central Region.
---
Like NNLM SCR on Facebook and follow us on Twitter.
ABOUT E. Bailey Sterling
E. Bailey Sterling is a Digital Communications Specialist with the NNLM SCR and presently a graduate student pursuing an MS in Information Science specializing in Health Informatics from the University of North Texas (GMG!). She's also a Graduate Student Council Senator, Teaching Assistant, analog gamer, writer, and lifelong learner living in DFW. If you have anything you'd like to see featured on the NNLM SCR blog or social channels, please email Bailey.Sterling@unthsc.edu. We would love to hear more about what's happening at your library!
Email author View all posts by E. Bailey Sterling