NIH Hot Topics: Vaping
Posted by E. Bailey Sterling on August 24th, 2020
---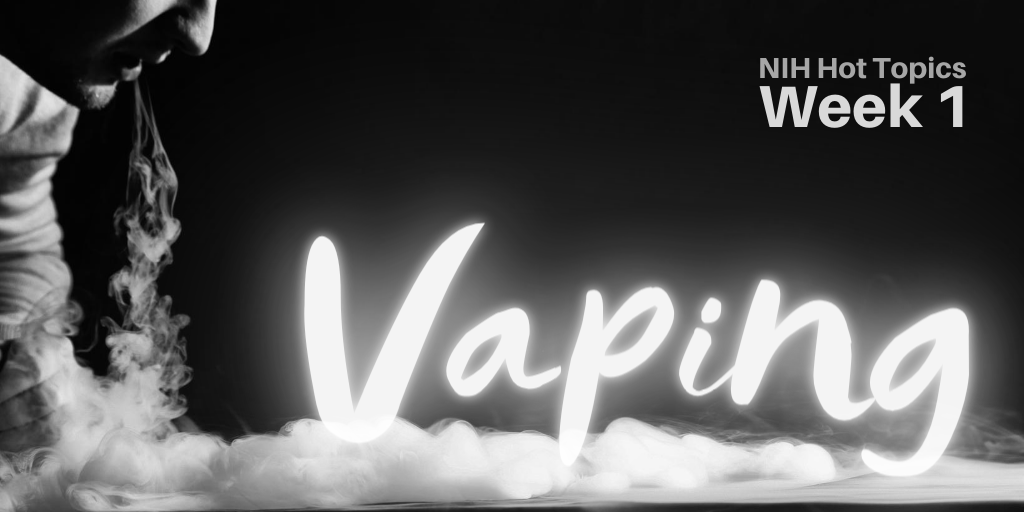 Over the last several months, Amanda Wilson, Chief of Engagement and Training at NNLM's Office of Engagement and Training, has frequently reminded NNLM staff of a few NIH topics of interest "that might be coming down the pike for NNLM"; these are topics that may or may not already be top-of-mind for NNLM staff. NNLM staff and health sciences librarians should be making a concerted effort to brush up on these subjects. This blog will briefly explore one of the three hot topics she describes, including a definition and a list of resources you might find helpful in your research. Please note that this is not a complete list of resources and a special focus has been placed on resources that are most applicable and accessible to our five-state region of Arkansas, Louisiana, New Mexico, Oklahoma, and Texas.
---
The NIH hot topic we will address this week is vaping.
Vaping, or the use of electronic cigarettes (also known as e-cigs, e-hookahs, mods, vape pens, vapes, tank systems, and electronic nicotine delivery systems (ENDS)), has seen a dramatic increase in the last decade, especially among young adults and teenagers. E-cigs contain a liquid comprising nicotine, flavorings, and other chemicals that is heated until it becomes vapor. This vapor is then inhaled by the user via a mouthpiece. It is commonly believed that vaping is less harmful than smoking cigarettes and may even help smokers quit; however, there is no substantial evidence to support these claims. E-cigs do contain nicotine and other chemicals that are poisonous if touched or ingested outside of smoking via vaping device. 
Vaping Resources
Smoking Cessation Resources
---
Do you know of any more vaping or smoking cessation resources that may be helpful? Let us know! Remember to like NNLM SCR on Facebook and follow us on Twitter.
ABOUT E. Bailey Sterling
E. Bailey Sterling is a Digital Communications Specialist with the NNLM SCR and presently a graduate student pursuing an MS in Information Science specializing in Health Informatics from the University of North Texas (GMG!). She's also a Graduate Student Council Senator, Teaching Assistant, analog gamer, writer, and lifelong learner living in DFW. If you have anything you'd like to see featured on the NNLM SCR blog or social channels, please email Bailey.Sterling@unthsc.edu. We would love to hear more about what's happening at your library!
Email author View all posts by E. Bailey Sterling