NN/LM SCR Introduces Our Consumer Health Outreach Coordinator: Myriam Martinez-Banuelos
Posted by Lisa Smith on May 12th, 2016
---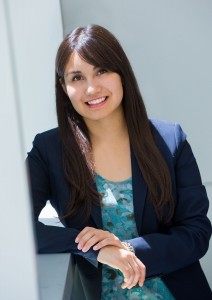 Myriam Martinez-Banuelos, NN/LM SCR Consumer Health Outreach Coordinator, has been instrumental in helping establish the new office in Fort Worth.  Prior to transferring to the RML, she served as the Outreach Librarian for the UNT Health Science Center and has been developing outreach programming and services within the designated Lewis Library 24 county outreach region.
In this role, Myriam coordinated Lewis Library's NN/LM Resource Library Outreach subcontract award and was able to develop new partnerships that allowed Lewis Library to extend its programming to reach Hispanic communities. Some examples of successful partnerships are: Fort Worth Public Library, Haltom City Public Library, Hispanic Wellness Coalition, and Northside Inter-Community Agency.
Myriam was able to establish a new partnership with Dia de la Mujer Latina, a community based organization that primarily serves Hispanics, for the first time to reach community health workers and provided training sessions in Spanish for this audience. She also has developed programs focused on health topics for children and their parents at the Fort Worth Library.
Myriam has provided instruction services to consumers, English learners, community health workers, nurses, English as a second language instructors, public librarians, public library staff members, academic librarians, seniors, teenage parents, and high school students.
Myriam has also been teaching adult education classes since 2012. She was a volunteer ESL instructor at the Fort Worth Public Library for almost two years where she started exploring strategies to integrate health literacy into ESL instruction. She was also a volunteer instructor and assisted in developing an ESL program for Facilities Management Employees at the University of North Texas Health Science Center.
Her outreach efforts have also been extended to international audiences. Myriam has provided online instructional sessions for library students in Costa Rica and medical librarians in Colombia. She recently coordinated a professional exchange program funded by NN/LM SCR where Lewis Library was able to host a medical librarian from Mexico during the MLA/SCC Annual Meeting.
Myriam is a past recipient of the NN/LM SCR Library Student Outreach Award and was selected for the 2016 Emerging Leader Class by the American Library Association. Myriam received her Consumer Health Information Specialization, Level II, from the Medical Library Association in 2015.
Contact Myriam at Myriam.Martinez-Banuelos@unthsc.edu or 817-735-2469.
ABOUT Lisa Smith
Email author View all posts by Lisa Smith