NN/LM SCR Introduces Our Emerging Technologies Coordinator: Brian Leaf
Posted by nnlmscr on October 26th, 2016
---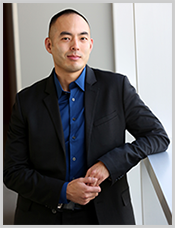 The NN/LM SCR is pleased to welcome Brian Leaf to the RML. Brian will serve as the Emerging Technologies Coordinator and also as the liaison to the States of Louisiana and New Mexico.
Prior to working for the South Central Region, Brian served as the Instructional Design Librarian at The Ohio State University (OSU) for the past five years. While there, he contributed to a variety of instructional projects, facilitated workshops for faculty/staff/students, and served as a consultant on pedagogical issues. In this role, he also worked across departments to enhance teaching and learning, which included anything from revising an instructional grant program to producing educational multimedia works for exhibits. Last but not least, he helped lead and grow the interdisciplinary OSU Digital Storytelling Program through outreach and program development.
Brian completed his undergraduate degree at the University of Washington in Seattle and graduate work at the University of North Carolina at Chapel Hill. During his time in Chapel Hill, he worked as a graduate research assistant to Dr. Joanne Marshall and had the opportunity to help with the Value of Library and Information Services in Patient Care study.
In 2013, he was awarded the OSU University Libraries Teaching Excellence Annual Award for his work redesigning credit courses offered through the library. He is also an alumni of the American Library Association's 2010 Spectrum Leadership Institute as well as the Association of Research Libraries (ARL) Career Enhancement Program. Currently, he serves on the Executive Board of the Asian Pacific American Librarians Association.
Brian is very excited to join the NN/LM SCR in enhancing public health and access to health information.
Contact Brian at Brian.Leaf@unthsc.edu or 817-735-2169
Follow NN/LM SCR on Twitter and like us on Facebook.
ABOUT nnlmscr
Email author View all posts by nnlmscr