Oncology Data Sharing Resource CancerLinQ™ Nearing 1 Million Records
Posted by nnlmscr on June 6th, 2016 Posted in: Blog

---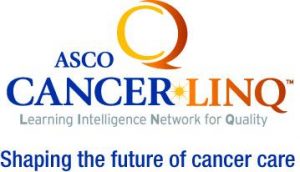 One million unique patient records from approximately 50 oncology practices are expected to be part of the CancerLinQ™ network by this summer. It is a benchmark indicating the broad and growing acceptance within the oncology community for an initiative that is compiling a robust database of real-world information that will be searchable, usable, and specifically designed to improve patient care. By late 2016 or early 2017, enough anonymous and aggregated data will be entered into CancerLinQ to allow searches of the entire system. Physicians will be able to compare a patient's data against national quality standards and the experiences and outcomes of patients across the country.
Dr. Allen Lichter explained the advantages of utilizing the CancerLinQ system to physicians attending the American Society of Clinical Oncology this week in Chicago. "If, for example, you are seeing a patient that for you and your practice is an unusual presentation or in an unusual setting, you will have the ability to query the database and rapidly see 50 or 100 similar cases to gain insight about what has been done by others and what happened when certain techniques or treatments were employed," Dr. Lichter said.
Physicians attending the ASCO meeting will have the opportunity to view a demonstration of the database which now contains real world data.
Learn more about this big data initiative at: http://cancerlinq.org/
Story reprinted from ASCO Daily News 6.5.16:  http://am.asco.org/cancerlinq-gaining-participants-enthusiasm, author: Kathy Holliman, MEd
ABOUT nnlmscr
Email author View all posts by nnlmscr