Outreach Librarians receive training in connecting with the Aging Community
Posted by nnlmscr on March 1st, 2017 Posted in: Aging, Consumer Health, Resources, Texas, Training

---
Executive Director Lisa Smith kicks off the 2017 Annual Outreach Librarian training session.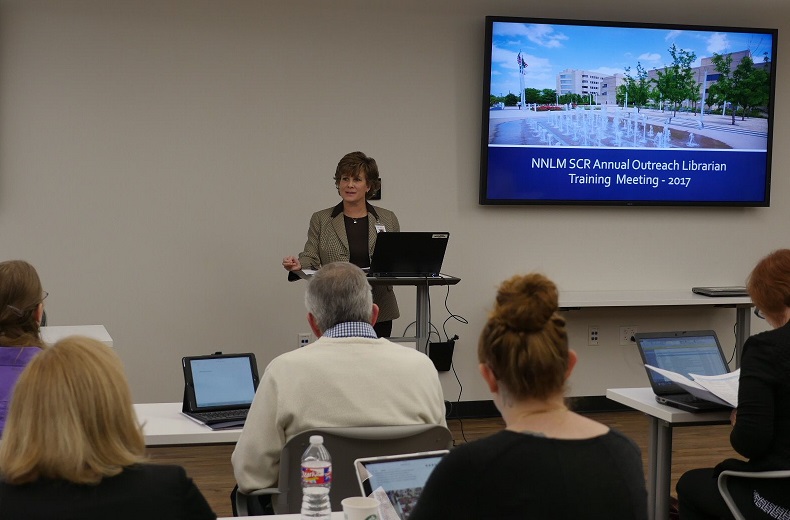 The NNLM SCR was excited to host its annual Outreach Librarian training session at the UNT Health Science Center campus in February. Outreach Librarians from the eighteen (18) Resource Libraries within the NNLM SCR participated in the two day training session. Practitioners in the field of Geriatrics and Community Outreach shared information with the group to increase librarian awareness of issues facing the elderly community. Educational sessions included practical tools and suggestions for providing programming to the Aging community. Dr. Jennifer Severance, Assistant Professor, Center for Geriatrics and Program Administrative Director for the Workforce Enhancements in Health Aging and Independent Living Program (WE HAIL) assembled the team of experts and coordinated the training program. An expert panel was also convened to describe services offered by several community based agencies and the United Way.
Insights shared by our presenters included an overview of trends in aging demographics. The increased number of the U.S. population that will be age 65 or older by 2050 (1 in 5 individuals) and the rapid increase in the growth of individuals that are 85 or older were highlighted as trends that will shape the face of healthcare in the coming years. Additionally, the role caregivers play to support their loved ones and the support that may be provided to this community were explored. An introduction to the Aging Network was provided to encourage partnerships between libraries and these agencies. National, State and local agencies were featured including the Area Agency on Aging, Sixty & Better, Alzheimer's Association, and the North Central Texas Chapter and Meals on Wheels, Inc. of Tarrant County. Featured services and programs that were discussed included: benefits counseling, Medicare training, nutrition education, legal services, transportation, respite care and home meal delivery.
Presentations were provided by:
Dr. Janice Knebl, DO, MBA, the Director for the UNTHSC Center for Geriatrics, HRSA GWEP WE HAIL PI, provided training in trends and issues facing the aging patient and trends in the field of geriatrics.
Don Smith, Director, Tarrant County Area Agency on Aging, VP Community Development Health Initiatives United Way of Tarrant County
Christina Bartha, Director of Programs for Sixty and Better (formerly Senior Citizens Services, Inc.)
Susanna Luk-Jones, Director of Programs and Services, Alzheimer's Association – North Central Texas Chapter
Sherry Simon, Vice President of Nutrition and Health Programs, Meals on Wheels of Tarrant County
The NNLM SCR Staff would like to extend a special thanks to the practitioners and agencies who shared their time and expertise with our Outreach team!
Like us on Facebook and follow us on Twitter.
ABOUT nnlmscr
Email author View all posts by nnlmscr