Being a Part of Your Own Healthcare: Questions to Know
Posted by nnlmscr on March 7th, 2017
---
Oncology Doctor Consults with Patient by National Cancer Institute is licensed under CC0.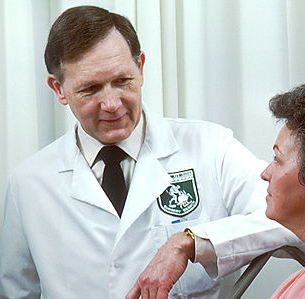 Recently, I taught a class on how to help older adults find health information. One of the issues that came up during the class was patient safety, which has been a trending topic for us this past year.
Unlike the patient-doctor relationship of the past, patients today are encouraged to be active partners in the healthcare team in order to, in part, reduce the errors that occur in routine processes. According to Sir Liam Donaldson, named by the World Health Organization as the Envoy for Patient Safety, these errors occur in 10% of hospital admissions and sometimes lead to fatal outcomes.
The Agency for Healthcare Research and Quality (AHRQ), part of the U.S. Department of Health and Human Services, "develops the knowledge, tools, and data needed to improve the health care system and help Americans, health care professionals, and policymakers make informed health decisions" as stated on their profile.
One of these tools is a set of questions that patients can ask their doctors. They also have additional information on what one might ask pre- and post-appointment, along with a guide on building your own set of questions. The basic set includes:
What is the test for?

How many times have you done this procedure?

When will I get the results?

Why do I need this treatment?

Are there any alternatives?

What are the possible complications?

Which hospital is best for my needs?

How do you spell the name of that drug?

Are there any side effects?

Will this medicine interact with medicines that I'm already taking?
One of the participants in the course suggested an additional question to ask the doctor that resonated with the other professionals in the class:
"What happens if I do nothing?"
Asking the right questions is an important part of taking care of one's health. Find more on AHRQ's Questions to Ask Your Doctor.
Like NNLM SCR on Facebook and like us on Twitter.
ABOUT nnlmscr
Email author View all posts by nnlmscr