Shari Clifton Receives the Michael E. DeBakey Library Services Outreach Award
Posted by nnlmscr on July 12th, 2016 Posted in: NLM Announcements, Outreach

---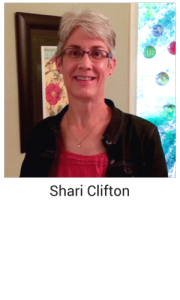 Shari Clifton, Outreach Librarian at the Robert M. Bird Health Sciences Library of the University of Oklahoma Health Sciences Center has been awarded the 2016 Michael E. DeBakey Library Services Outreach Award.
Shari has extensive experience providing outreach programming throughout Oklahoma and was instrumental in developing an outreach program that has helped public libraries increase their ability to locate and search for authoritative health information. In partnership with other OUHSC librarians, Shari developed the Health Information Specialists Program. This program provided training to Metropolitan Library System (MLS) staff which allowed participants to obtain extensive training in consumer health resources and ultimately obtain a Level I Consumer Health Information Specialization through the Medical Library Association.
This prestigious award was established in the early 1990s in honor of Dr. DeBakey, to recognize outstanding service and contributions to rural and underserved communities by a practicing health sciences librarian. The award is presented annually by the Friends of the National Library of Medicine.
Congratulations to Shari for providing exceptional health information programming!
ABOUT nnlmscr
Email author View all posts by nnlmscr