So, what is an edit-a-thon anyway?
Posted by E. Bailey Sterling on April 24th, 2020
---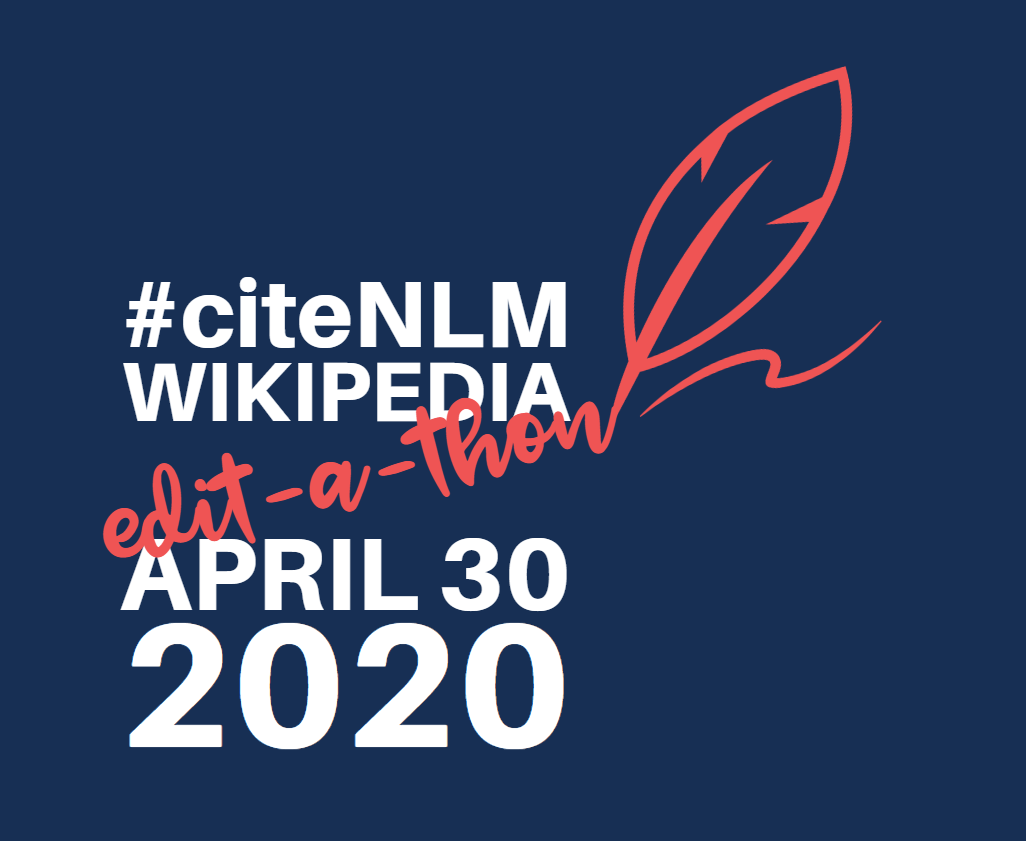 The day is drawing near! One of our most important events of the year, the spring 2020 #citeNLM Wikipedia Edit-a-thon, is on Thursday, April 30. This is a chance for all of us – experts and citizen scientists alike – to make sure that medical information on Wikipedia is correct and properly cited, fostering an information environment that is as current and reliable as possible. Edit-a-thons are common practice in many fields, but what are they exactly? And how can you get involved?
Let's start at the beginning with hackathons. Popular since the late 1990s, hackathons (portmanteau of hack and marathon) are events where, virtually or physically, hackers/coders/developers come together to intensively, simultaneously, and collaboratively build software over a prescribed period of time. Some hackathons last only a few hours, while others last days. There is almost always a common objective or theme toward which participants are working. Hackathons can be very informal or very structured; participants can be divided in a hierarchical team structure or can function individually with free reign over the direction of their work. Usually, at the end of such an event, the product developed over the course of the hackathon is showcased. Similar to hackathons are so-called game jams, during which game developers temporarily pool intellectual and physical resources to build an entire video game, start to finish, in a very short amount of time. All-nighters and energy drinks are very common here.
After popularization of peer-edited resources, most notably Wikipedia, it became almost immediately clear that necessary edits were abundant, and there were not enough editors to complete all of the work that needed to be done. Queue the birth of edit-a-thons.
Much like hackathons, edit-a-thons are short bursts of time during which peer editors work toward a common goal. Usually, these groups choose a specific subject and spend their time looking through Wikipedia (or similar resources) for information that isn't exactly accurate, is biased, or needs to be appropriately cited. In order to help maintain the accuracy of biomedical information on Wikipedia, we host a spring Wikipedia edit-a-thon, and we would love to have you engage as a citizen scientist and help make the internet a better place! Our directive is an important one; we are aiming to cite NLM or other reliable websites and contribute substantial scholarly support to the articles/topics in Wikipedia. Even better, you don't have to leave home; you can do all of this from your personal internet-connected device. No all-nighters or energy drinks required!
If this whole thing sounds daunting, if you're unsure about how Wikipedia edits work, or if you think you don't know enough to be of any help, fret not! There is ample training available on how to approach Wikipedia edits at the link located at the bottom of this article. Once you get signed up to participate, just choose one of the listed topics that interests you and begin your citation editing! 
It's the end of Citizen Science Month, and WE NEED YOU! See you April 30!
For more information and to sign up, visit https://nnlm.gov/national/guides/ccs/wikipedia-edit-thon
Remember to follow us on Facebook and Twitter!
ABOUT E. Bailey Sterling
E. Bailey Sterling is a Digital Communications Specialist with the NNLM SCR and presently a graduate student pursuing an MS in Information Science specializing in Health Informatics from the University of North Texas (GMG!). She's an analog gamer, writer, and lifelong learner living in DFW. If you have anything you'd like to see featured on the NNLM SCR blog or social channels, please email Bailey.Sterling@unthsc.edu. We would love to hear more about what's happening at your library!
Email author View all posts by E. Bailey Sterling