Inspiring People in our Region – Theresa Alaeze, Associated Health Resource Center
Posted by SEA Currents on July 25th, 2011 Posted in: Outreach

---
by Nancy Patterson, Community Outreach Coordinator, NN/LM, SE/A Region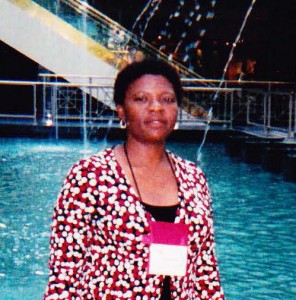 "NN/LM SEA is a sea of cutting edge information and a resource bank to us – exposure to a world of endless social-health information to educate people of all ages at the grass roots level and at the global level."
Theresa Alaeze
Executive Director
Associated Health Resource Center, Inc.
(410) 435-8899
Baltimore, MD

Is there something in your own story that led you to do the work you do?
Yes, in my final year as a nursing student, I was assigned to the pediatric unit dealing with premature babies and their mothers. I observed that majority of diseases that killed newborns before they reached one year of age were preventable in nature. Unfortunately, the mothers either have low literacy levels or just don't have any formal education at all, hence my crusade to get involved in providing basic but sustainable social-health information to the general population focusing on women and children's health issues. This, I do with passion. I will go distance to accomplish this mission because good health is priceless.

What do you love most about what you do?
Helping people understand that they are big players in health maintenance and enabling them to make informed choices when it comes to making decisions about their health and the health of their loved ones.
What is the biggest challenge in what you do?
Witnessing people changed their own hard-held beliefs and attitudes toward certain health issues and cultural factors. In the western world, it's hard to convince certain ethnic people who have predispositions (genetic factors) for diabetes that they can reduce their vulnerability by making good eating choices and staying active. In the developing countries, it's very difficult to convince parents with low literacy levels about the power of prevention of early childhood diseases through immunization/vaccination. They hold to the belief that the child will die or become paralyzed. The trust between the general population and the medical communities is low and very complex.

What has been the most fulfilling part of your work in terms of health outreach to your community's underserved populations?
Observing behavioral change toward certain concepts like a two-year old being able to properly wash his/her hands before or after certain activities; learning earlier on the immeasurable value of preventative health.
What do you see as the biggest health concerns in the communities you serve?
The emergence of chronic conditions in younger children such as diabetes, obesity, and recurrent acute asthma episodes and other preventable diseases.
In what ways has NN/LM SE/A been of help to you?
Exposure to a world of endless social-health information to educate people of all ages at the grass roots level and at the global level. NN/LM SEA is a sea of cutting edge information and a resource bank to us.

Can you share a success story about the impact of health outreach in your community?
We have a lot of stories to tell but the most recent one was about H1N1 Influenza and proper hand washing at a daycare center in Baltimore. At this daycare center, they had 42 young people who attended our training sessions. Toward the end of the session, two young people volunteered to become peer educators among teenagers and other young ones, this they stated, "We never knew that you can prevent flu by vaccination and proper hand washing. We thought, the shot gives the flu but now we have learned the truth". Another story is that of the daycare director who said, "We never knew we can get these types of services for free, and how come nobody even informed us?". This provider referred us to three other daycare centers which made our efforts expand beyond the pre-selected centers. It's a blessing to reach out to people who may have otherwise not be reached by the traditional methods of health information delivery.
What advice would you give others who are interested in doing health outreach work in their communities?
Community outreach work is key to communicating social-health messages, encouraging and engaging communities to take charge of their health. The joint benefits are immeasurable. The stakeholder should invest money and resources at the community level through Community Based Organizations (CBOs). Early interventions help to promote awareness, increase knowledge and save tax-payers millions of dollars in treating preventable health conditions.
If you would like to share your story or suggest another person for our "Inspiring People" feature, please email Nancy Patterson:  npatters@hshsl.umaryland.edu
ABOUT SEA Currents
Email author Visit author's website View all posts by SEA Currents