Inspiring People in our Region: Joyce Linnen, Georgetown County Diabetes CORE Group, Georgetown, SC
Posted by SEA Currents on October 5th, 2011 Posted in: All Posts

---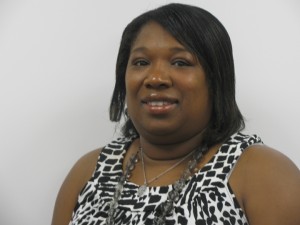 "I learn from the community as well as they learn from me."   
Joyce Linnen
Community Health Advisor
REACH US: SEA- CEED
Project:  Georgetown County Diabetes CORE Group
http://www.georgetowncountydiabetes.com/index.html
Georgetown, South Carolina
What is your position? 
I am currently the Community Health Advisor for the REACH US: SEA-CEED (SouthEastern African American Center of Excellence in the Elimination of Disparities in Diabetes) program with the Medical University of South Carolina (MUSC) College of Nursing & the Georgetown County Diabetes CORE Group.
Is there something in your own personal story that led you to do the work you do?
Several years ago I lost my paternal grandfather due to the diabetic complications. With all the education I thought I had I never knew why he had so many issues with his eyes and circulation in this hands and feet. Later on several other problems arose from uncontrolled diabetes. One day I attended a workshop on diabetes at my church being done by the Georgetown County Diabetes CORE Group. From that 90-minute presentation, I realized what was going on with my grandfather. I was amazed because if I only knew some of what I learned that evening I probably would have been able to help my grandfather much more. After that night I decided I wanted to become a member of the Georgetown County Diabetes CORE Group and to be trained to go out to educate my community about diabetes and other health disparities from a layman's point of view.
What do you love most about your outreach work? 
I love meeting people of various ethnicity and cultures and enjoy knowing that I have made a difference in someone's life. I really enjoy the teaching and being taught as well. Sometimes I learn from the community as well as they learn from me.
What is the biggest challenge in your work?
One of my challenges is not having an adequate amount of funds that sometimes puts limits in what I would like to do for the people. Another challenge is sometimes lack of commitment on the part of the participants, which leads to non-compliance and not achieving goals due to their limited personal resources.
What has been the most fulfilling part of your work in terms of health outreach to your community's underserved populations?  
The most fulfilling part of my work is seeing my clients accomplish their goals and learning what they need in order to live a longer and healthier life.
What do you see as the biggest health concerns in the communities you serve?
 The communities I serve are very rural areas within Georgetown County. The nearest health facility for the majority of the residents is 20- 30 miles away; therefore, it's difficult for them to have access to a lot of health information (health education & health literacy) or services (access to care) because of lack of transportation. They are subsequently being left out of the loop and that's why they are not controlling their diabetes, high cholesterol, hypertension, and obesity issues.
How did you first come to know NN/LM SE/A?
I first came to know NN/LM SE/A when I worked on a library health education project with Barbara Carlson, a librarian from the MUSC REACH 2010 Diabetes Education Program, Marilynn Lance-Robb, (Ma Flo) Florene Linnen and several other librarians and community partners that were being trained on Pub Med and Medline Plus. We all returned to our respective communities and educated people on how to use the Internet and modern technology to access reliable health information. Our program in 2006 won 1st place and receive the National Health Information Award.
In what ways has NN/LM SE/A  been of help to you?
The grant funding we have received from the NN/LM SE/A has allowed us to bring our community up to par with modern technology where they may not have had an opportunity otherwise. It also allowed me to educate them on various health topics in a more creative and interesting manner (i.e. using MedlinePlus interactive tutorial program). Also, since being introduced to MedlinePlus has helped inform me about several health issues of my own. The website has become a part of me and I make it a point to regularly introduce it to people from many different educational and socioeconomic backgrounds.
Can you share a success story about the impact of health outreach in your community?
One of many success stories is about my Men's Health Campaign that began in 2010. I wrote a grant through the NNLM to educate men about various health issues and concerns. I had a computer workspace in one of their group-meeting locations and did several trainings with them about Men's Health. I am very pleased to say this men's group is continuing today educating men about various health issues and the issues and concerns men deal with. I can say that I currently provide technical assistance. The group is growing very strong on their own. They still have computer health classes and they have health pointers and tips discussions during their meetings. I count this as a success because "working with men", training them to be educators, was totally different from "educating men".
What advice would you give others who are interested in doing health outreach work in their communities?
 The advice I would give others is to make sure this is your passion and you are willing to be dedicated and committed because it takes a lot of hard work and long hours. Also be willing to "think outside the box" and make adjustments.
If you would like to share your story or suggest another person for our "Inspiring People" feature, please email Nancy Patterson:  npatters@hshsl.umaryland.edu
ABOUT SEA Currents
Email author Visit author's website View all posts by SEA Currents