Inspiring People in our Region: Kay Hogan Smith, Community Service Librarian, University of Alabama, Birmingham
Posted by SEA Currents on February 14th, 2012 Posted in: All Posts

---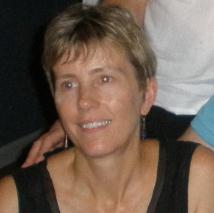 "Don't expect to dust off your hands and wave good-bye after the grant project is done – this is a long-term commitment."
Kay Hogan Smith
Community Services Librarian
University of Alabama, Birmingham
Lister Hill Library:http://www.uab.edu/lister/
What is your position?
I'm Community Services Librarian at UAB Lister Hill Library, and director of Health InfoNet of Alabama, a free health information service of the state's medical and public libraries (since 1999).
Is there something in your own personal story that led you to do the work you do?
I was a public librarian before I became – quite by accident – a medical librarian. This was in the dark ages of course, but I remember how flummoxed I and my colleagues then would get by the medical questions. I was so afraid of steering people wrong! So, when I came to Lister Hill Library and was put in charge of consumer health information services, I decided that what was really needed was a cooperative health information service that pulled on the strengths of both the public and the medical librarians throughout the state. The major strength of both is their expertise in finding just the information needed that is reliable and current at the time it's needed. We focus on that and on training and collection development as well as the use of the academic medical libraries as reference backup for the public libraries.
What do you love most about your outreach work?
Knowing that just by being sympathetic, if nothing else, I really am helping someone who may be struggling with serious health issues. I also really enjoy meeting community health advocates and partners all around the state, even around the country – I've met some terrific folks and become involved in some wonderful community health initiatives, especially in the faith community.
What is the biggest challenge in what you do?
Given the nature of what I do and the times we live in, I'm often contacted by uninsured people who are desperately seeking health care services. Some are even homeless, or close to it. It breaks my heart and frustrates me to no end that so many are left to fall through the cracks.
What has been the most fulfilling part of your work in terms of health outreach to your community's underserved populations?
I've gotten to know a lot of truly wonderful people in my community that I might never have met but for the work I do. It is really through them that I find my greatest fulfillment in truly connecting with a community and helping them to empower themselves with reliable health information. Also, having been away from the public library myself for many years now, I continue to be impressed with the public libraries' vibrancy and relevance in the community. They've truly earned this place of respect through their continuing innovation and openness to new ideas.
What do you see as the biggest health concerns in the communities you serve?
Our fragmented and inadequate health care system, especially when it comes to the poor and uninsured. Even the relatively well off, however, find it confusing at best. Our system demands a very high level of health literacy, and often it just isn't there. Of course, that isn't just in Alabama, although given what a poor state this is, the problem may be more acute here than elsewhere.
How did you first come to know NN/LM SE/A?
Typically, I think my very first awareness of NNLM was its funding awards, at that time for Grateful Med teaching. I got an award to teach the program to medical residents at the hospital where I worked at the time.
In what ways has NN/LM SE/A been of help to you?
In many ways, Health InfoNet of Alabama might never have been – at least not on its current scale – if not for NN/LM. They've always been so supportive of our work, both financially and otherwise. I'm eternally grateful to them all!
Can you share a success story about the impact of health outreach in your community?
Just recently, I helped a young woman locate information on a prescription for a skin cream her doctor had given her for severe psoriasis. The woman had just found out she was pregnant, and it turned out the skin cream was reported to increase risks of birth defects when used by pregnant women. Needless to say, she was relieved to have found out this fact before something more serious than the psoriasis happened to her baby! And I thought it was nice to know that we did our part to prevent birth defects.
What advice would you give others who are interested in doing health outreach work in their communities?
Start early getting to know, on a personal level, the people in the target communities you'll be working with (even if you don't know what you'll be working on with them yet).  And, don't expect to dust off your hands and wave good-bye after the grant project is done – this is a long-term commitment, not a "one night stand" – or at least it should be!  Finally, keep at it – things don't always fall immediately into place.
If you would like to share your story or suggest another person for our "Inspiring People" feature, please email Nancy Patterson:  npatters@hshsl.umaryland.edu
ABOUT SEA Currents
Email author Visit author's website View all posts by SEA Currents