Inspiring People in our Region: Frank Fajardo – Herbert Wertheim College of Medicine, Miami, FL
Posted by SEA Currents on April 23rd, 2012 Posted in: Outreach

---
Herbert Wertheim College of Medicine (HWCOM) Medical Library: Forging a new library – inception, planning and open for business
 "The most fulfilling part of working with a new medical school faculty and staff is watching them take on new challenges as the school grows."  — Frank Fajardo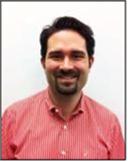 Francisco (Frank) Fajardo, MA, MPA, MLIS
Access Services Supervisor
Florida International University
Herbert Wertheim College of Medicine (HWCOM) Medical Library
Miami, FL
What is your position and what was the path that led you to it?
I am the Access Services Supervisor for the HWCOM Medical Library, overseeing circulation of materials, resource sharing, the day-to-day operations for the medical library, and supervising a staff of six. I have held this position since May 2009. Since then, I have watched a new medical school grow and expand with each new class of students and faculty.
It was a former coworker who told me to apply for the position. She felt I had the necessary management skills that the job required. Of course, I had no prior library experience before accepting the job, but I loved the challenge.
Is there something in your own personal story that led you to do the work you do?
Before the HWCOM Medical Library, I worked for the Miami-Dade County Board of County Commissioners as a Legislative Analyst. During my tenure, I analyzed proposed legislation, briefed officials on the public policy impacts to the citizenry, and provided vital budgetary information from the State of Florida's legislators. It was a challenging job that involved countless hours of research and dedication but served as a valuable lesson in organization and management. Coming into the HWCOM Medical Library with no library experience was certainly a challenge, but I successfully turned this uncertainty into determination by earning my MLIS. I started my MLIS in Fall 2009 and recently graduated in December 2011 from Florida State University.
What do you love most about your outreach work?
I love to travel to other academic and hospital libraries in the area. It has been a joy to work closely with our local consortium libraries in providing resources to our students and faculty. It involves working with various clinical faculty and students at our hospital partner sites and making sure they have the proper resources and access to our library.
What is the biggest challenge in what you do?
The biggest challenge for me is working with many organizations within the University to make our library more accessible to our students. This involves coordinating with administrators to maintain the facility and keep it open (especially since our library is in the main University library) when the university is closed or on a shortened schedule. It is a careful designing of various schedules, staff, and communication.
What has been the most fulfilling part of your work in terms of working with the new medical school faculty and staff? 
The most fulfilling part of working with a new medical school faculty and staff is watching them take on new challenges as the school grows. Most often, my work starts when administrators and faculty require resources for their own research or provide resources to our students in the classroom. It is most fulfilling when they are able to see tangible results of our services, i.e., articles or books via interlibrary loan. I often hear the positive feedback from faculty on how fast and prompt our services are. Or hear them boast about how courteous our library staff is when helping them. This all means a job well done.
What do you see as the biggest health concerns/obstacles in the communities that the medical staff and students serve?
The biggest health concern in the communities we serve is preventative care and the lack of consumer health resources in many of the underserved neighborhoods of South Florida. Through the Green Neighborhood HELP™ program (for more information visit (http://medicine.fiu.edu/education/md/curriculum/service-learning/neighborhoodhelp/index.html), our medical students are paired with students from the College of Law, School of Social Work, Public Health, and the College of Nursing to provide services to many families in these underserved areas. It is through these cohorts that I have an understanding of what resources and information these families lack in providing proper healthcare for themselves and their children.
How did you first come to know NN/LM SE/A?
I first came to know NN/LM SE/A through the DOCLINE listserv. I was searching for a class on how to use DOCLINE and their automated interlibrary loan system. It was here where I decided to explore all that NN/ LM SE/A had to offer. I immediately bookmarked the page and discovered so much useful information about class offerings, outreach and other training opportunities.
In what ways has NN/LM SE/A been of help to you? (if applicable)
The trainings and staff have been particularly helpful. Whether it is a class on using DOCLINE or on Emergency Preparedness for our library, NN/LM SEA has always provided a wealth of information for our facility. Classes on how to use DOCLINE are particularly helpful to my staff for learning document delivery and resource sharing. Occasionally, my staff comments on how easy the DOCLINE website is so intuitive and easy to use after attending training or reading instructional materials online.
Can you share a library success story about the impact of a particular work effort that was involved in the planning or operation of the medical school?
One particular success story I am proud of is starting our interlibrary loan service from scratch. It was I and my supervisor at the time, the Head of Information and Reference Services, who helped organize our resource sharing services for the library. It was a daunting task. I had to learn the fundamentals and procedures of running an interlibrary loan service in a matter of three months before the HWCOM Medical Library opened in August of 2009. Since then, the number of requests and users has multiplied with each incoming class and faculty members. I am proud of how our patrons come to rely on the service to find vital information for research. It continues to be a popular and essential service at the HWCOM Medical Library.
What advice would you give other librarians who uniquely find themselves in the formative stages of bringing a fully accredited medical school to fruition?
My advice would be to be patient and be ready for rapid change (even for the most seasoned professional librarian). Between changes in the curriculum and college administration, your library will always be affected. Therefore, always be attentive to the needs of your students and faculty; they are the best allies to have. 
For further information, please contact P.J. Grier (pgrier@hshsl.umaryland.edu).
ABOUT SEA Currents
Email author Visit author's website View all posts by SEA Currents