Inspiring People in our Region: Rick Wallace – Quillen College of Medicine Library, East Tennessee State University
Posted by SEA Currents on June 28th, 2012 Posted in: All Posts

---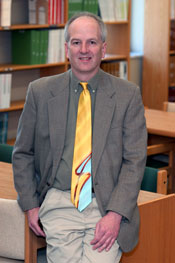 Rick Wallace, MA, MDiv, MAOM, MLS, EdD, AHIP
Assistant Director, ETSU Quillen College of Medicine Library
How long have you been a librarian?
I started working in a medical library in 1987. I have had the MLS since 1994.
How long have you been at ETSU in your current position?
1995-/2007-
What made you decide to be a librarian?
I just fell into it as a student who needed a job. I was a seminary student in a theological seminary. Some friends suggested I go to library school after I finished my MDiv. I thought I could be a theological librarian. This did not materialize, but opportunities opened up for me in medical librarianship, which I believe is my true calling.
What do you consider your biggest work related challenge?
I think it is selling a vision to (fill in the blank- administrators, health professionals, even librarians) of the enormous potential health science librarians offer to society in this information age.
What do you consider to be the most fulfilling part of your job?
Any kind of direct impact. I hate meetings, my office, committees, talking, administration, planning ad nauseum, etc. I love working with clinicians, teaching users, being out in the community.
What do you see as the biggest concerns in hospital and/or health sciences librarianship?
As hospitals and academics incorporate more of a profit-based motive instead of a values-based motive, libraries risk being seen as expensive cost centers that do not add to financial profits and are expendable. This would be tragic.
How did you first come to know NN/LM SE/A?
I kept hearing about it at conferences and from other medical librarians. It took me a few years to get all my N's in a row- NLM, NN/LM, NN/LM SE/A.
Have the NLM resources and/or NN/LM SE/A been of help to you? If so, how?
I am a hard core NLM disciple. PubMed is my lifeblood and the best citation database in the world. MedlinePlus is the best consumer site on the Web. I am working on an MPH and PHPartners is a very useful site. I go to a lot of ETSU CME conferences and statewide conferences as an exhibitor and I might as well be representing NLM because almost everything I promote is an NLM product. I also use and promote everything from AIDSInfo to WISER. If it were not for the constant training opportunities and extramural funding I have received from NN/LM, my career would have been greatly reduced.
Will you share a success story about the impact of your library or outreach?
I have been involved in several projects I feel proud of. I created a project called "A Simple Plan" which was able to provide instruction for public librarians across the 500 mile width of Tennessee. We logged thousands of miles traveling over a 6 year period and had roughly 1000 attendees, including 250 who received the MLA Consumer Health Information Specialization for attending 12 hours of instruction. We have relationships, either contractual or through grants, with about 20 rural hospitals, 20 rural clinics and many of the public health departments in Tennessee to provide remote library access. Recently we have had several targeted consumer health information outreach programs to groups such as: 1.Hispanic farm workers; 2. teenagers in local high schools; 3. elderly patients and staff in nursing homes; and 4. cancer patients (by training their pastors to use health information tools). I have been involved in grant projects that have distributed PDAs with clinical software to about 320 clinicians in 24 Tennessee rural hospitals. None of this would have been possible without NN/LM.
What advice would you give others who are interested in being a health sciences librarian?
I would tell them it is a great profession populated by great people. I would say that health sciences librarianship uses a great diversity of personality types and skills and that they could probably find a role that suited their skills.
For more information, please contact Sheila Snow-Croft, NNLM, SE/A Public Health Coordinator @ ssnowcro@hshsl.umaryland.edu
ABOUT SEA Currents
Email author Visit author's website View all posts by SEA Currents