Inspiring People in our Region: Rachel F. Fenske, Librarian – University of the Virgin Islands
Posted by SEA Currents on July 30th, 2012 Posted in: All Posts

---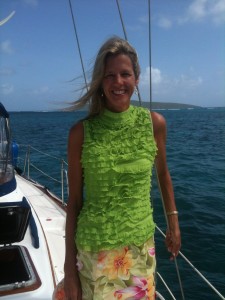 "Word of mouth is golden in small communities. Make as many contacts as possible. This makes networking easier and more successful."
Rachel F. Fenske
Librarian, University of the Virgin Islands
St. Croix, USVI
What is your position?
I am a part-time reference and instruction librarian at the University of the Virgin Islands, St. Croix campus.
Is there something in your own personal story that led you to do the work you do?
Prior to attending the University of Alabama's graduate program in Library Services, I was a pre-med major. I have always enjoyed medical research and have taught many classes in the use of PubMed throughout my professional librarian career. I have been the liaison to biology and chemistry departments at two universities, and enjoy teaching undergraduates and graduates in the use of specialized databases in the field of medicine, nursing and allied health fields. Having the opportunity to work on an NN/LM SE/A award enabled me to expand my PubMed instruction to health educators and practitioners in the community where access to quality medical information is so imperative.
What do you love most about your outreach work?
I have reaped the rewards of helping people navigate the maze of information available from the National Library of Medicine, and helped them incorporate this information into their knowledge base. All of my class participants are surprised that the information from NLM is free and so easily available. They have all been very eager to learn, and have recommended the use of the resources to their colleagues and coworkers. Without these trainings, this could not have been achieved. I enjoy teaching patrons new resources and have been glad to see so many community users exposed to new resources that would benefit them in their work environment as well as their own lifelong learning. The most rewarding part of my work, however, is when I receive comments after a session such as the following, "This is one of the most valuable trainings I've attended ever. Wished we had this training sooner!" That's what I love about my outreach work!
What is the biggest challenge in what you do?
The biggest challenge I face is encouraging colleagues to actively engage in reference and instruction services. In developing the vision for the library, it is imperative that the connection between a librarian and student exists, and that students know who they can go to for their information needs. Without this connection, students become lost in the maze of information and mentoring students to become lifelong learners of information is diminished. With the vast amount of information available, information literacy is the key to their success.
What has been the most fulfilling part of your work in terms of health outreach to your community's underserved populations?
St. Croix is a small island in theCaribbeanwith limited access to libraries and information resources. My outreach extends to HIV/AIDS agencies, the Virgin Islands Department of Health, and various social services on the island that benefit greatly from the training and resources I provide. Providing awareness to the free, scholarly, and reputable medical resources available through the National Library of Medicine has opened the doors to so many. The easy to read and practical resources available through Medline Plus are most appropriate to the many users I teach. It has been extremely rewarding to see so many health professional learn about these resources so they, in turn, can relay the information on to their coworkers, patients and families.
What do you see as the biggest health concerns in the communities you serve?
The biggest health concern on the island of St. Croix is HIV/AIDS, with diabetes and heart disease following close behind. Educating the community about these diseases and providing information on how to reduce the risks of contracting HIV/AIDS, ways to manage diabetes and promote healthy living is a major hurdle within the health professional community. Providing access to accurate, reliable and current health information to this community is crucial to the educational role that health professionals face. Access to Medline Plus is a great resource for health professionals to use when interacting with their clients and was well received by community users.
How did you first come to know NN/LM SE/A?
I learned about NN/LM SE/A from my colleague, Judith Rogers, Manager of the University of the Virgin Islands Libraries. She had received previous awards to assist in health literacy instruction among the Juan Luis Medical Hospital staff and recommended that I review funding opportunities to continue this work along with nurturing the University of the Virgin Islands nursing program, and other health agencies within the community.
In what ways has NN/LM SE/A been of help to you?
In 2010-11, I received an award to provide instruction to health care professionals, professional medical staff and community users in the use of PubMed and Medline Plus. This opportunity enabled me not only to educate users in the use of reliable medical information, but also to foster an understanding of professional librarianship among community users. Furthermore, I was able to facilitate a working partnership with the University of the Virgin Islands and the community in advocating health literacy.
Can you share a success story about the impact of health outreach in your community?
After conducting a workshop in the use of Medline Plus for a group of residents at a community housing facility, I was contacted by the complex manager the following year to conduct a similar workshop to her residents. She has since sent her employees to attend additional NN/LM workshops that were offered on St. Croix and is now enrolled at the university. With this one contact, I have continued to provide opportunities for health education to community users long after my award was complete. The professional connection between the university and community users in health education literacy has been quite significant and successful.
What advice would you give others who are interested in doing health outreach work in their communities?
a)      Be persistent in communications, as many times the initial contact information is incorrect.
b)      Word of mouth is golden in small communities. Make as many contacts as possible. This makes networking easier and more successful.
c)      Know the culture of your community and adapt.
d)     Provide instruction examples pertinent to your community/clientele. This will engage your audience and demonstrate that you are genuinely interested in their health concerns.
e)      Be prepared for network failures and have alternative plans. Be ready to be a technology expert even if you are not!
For additional information, please contact Nancy Patterson @ npatters@hshsl.umaryland.edu
ABOUT SEA Currents
Email author Visit author's website View all posts by SEA Currents