Inspiring People in Our Region: Elsa M. López – VA Caribbean Healthcare System
Posted by SEA Currents on August 29th, 2012 Posted in: All Posts

---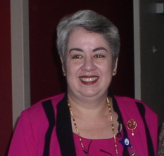 Elsa M. López, Ph.D.
Chief, Library Service & MHV Point of Contact
VA Caribbean Healthcare System
San Juan, PR
How long have you been a librarian?
I completed my Masters in Science in Library Science in December 1984, so I have 28 years of experience after the MSLS.
How long have you been at your current library/in your current position?
13 years
What made you decide to be a librarian?
I did not plan it. I started working in a library as a student assistant when I was a sophomore; later the University of Puerto Rico main campus recruited me as Assistant Librarian at the College of Pharmacy when I completed my BA. After that, when the College became part of the Medical Sciences Campus, I started working in the Reference Service; later my bosses encouraged me to go ahead and complete the MSLS. After completing my masters degree, I became the Head of Technical Services in the same library. From there I completed the NLM Associate Program in 1989, and finally the PhD in 1994. After completing this final degree I started teaching at the Library School. Later I accepted the position I presently have because wanted to have experience in a hospital library; that was the side of the medical librarianship profession where I had no experience.
I cannot say what made me decide to be a librarian because I never planned it. My experience working in a library drove me to this field. I enjoy and feel proud of my career since I have had the opportunity to work in every position a library has including training future librarians.
What do you consider your biggest work related challenge?
Technology. I had a full understanding of medical librarianship because of my experience, but creating a digital catalogue and making the library electronic has been the greatest challenge.
What do you consider to be the most fulfilling part of your job?
I have enjoyed every part of my work as a librarian, but teaching future librarians provides the greatest rewards. I am proud to say that some of my students have been interviewed in this medical center and people are surprised by their professionalism. So, the work done during library school, at least in my tenure, was great and I am proud to have taught them.
What do you see as the biggest concerns in health sciences librarianship?
A good medical librarian needs a lot of dedication to face many challenges. Librarians should be open to continuous learning through continuing education and self-education. Unfortunately salaries are not enough to attract people with the best qualities to the profession.
How did you first come to know NN/LM SE/A?
When I started working in libraries PR was part of Region 6 (Southern); so I remember the evolution of NN/LM SE/A from the beginning. Remember that I started working in libraries as an undergraduate student.
Has the NN/LM SE/A been of help to you?
Of course!!!!!!!!! It has been a great support and nowadays we cannot work without you!
Will you share a success story about your library?
I always told my students at the library school the importance of answering reference questions correctly. Based on a study I read while in my PhD program, I discovered that librarians answered just 43% of the reference questions correctly (this article was written in 1989), while clinical librarians were able to answer 96% of the questions correctly. Why that difference? Being a medical librarian, answering a question wrong could put the life of a patient at risk.
What advice would you give others who are interested in being a health sciences librarian?
To accept the challenge, once you are inside the profession you will learn to love it.
For more information, please contact Sheila Snow-Croft @ ssnowcro@hshsl.umaryland.edu.
ABOUT SEA Currents
Email author Visit author's website View all posts by SEA Currents