Inspiring People in the Region: Richard Barry – Silver Spring, MD
Posted by SEA Currents on October 4th, 2012 Posted in: All Posts

---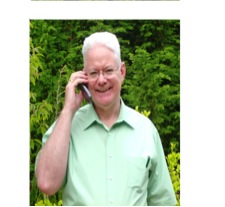 Richard Barry M. Div., MSLS, AHIP
Librarian, Archivist and Records Manager
Institution – American Nurses Association
Silver Spring, MD
What is your position and what was the path that led you to it?
Fundamentally I am a spiritual person and so I believe that I was led to my current position. After completing Library Science studies, I began working in a seminary library. It took about six months for me to realize that if I was to advance in this particular library, someone ahead of me needed to pass away since the staff had all been there for many years. After a nine-month search the ANA took a chance and hired me. Basically I fell into healthcare librarianship. I love it. BTW, that seminary and its library closed within two years of my leaving.
Is there something in your own personal story that led you to do the work you do? (If you care to share a personal story)
I am not the first person to have a midlife crisis so I found myself a different person at forty than I was at 18. After working with people in crisis and listening to problems all day, I wanted work that provided service but without the intensity of life issues. I am happy to say that early on I discovered that books do not talk back; of course, recent technology has changed that.
What do you love most about your customer service work?
I receive personal pleasure when a patron tells me; "I can't believe you found this article." My work view is that I am one dimension of the intellectual process. When searches or articles are requested I know the patron is working on a specific topic and timeliness and accuracy are important. They cannot continue on with developing policy until I do my part by providing high quality accurate information for them to use. This is satisfying for me even though there is no public acknowledgement of my contributions. I've always been a curious person wanting to understand people, things and situations. When I can use my curiosity to uncover information I delight in being an information sleuth.
What is the biggest challenge in what you do?
The biggest challenge is working within a limited budget. Financially a membership-driven association is very conscientious about where, for what, and how much is spent in doing the work of the association. Usually the frustration is most evident when attending MLA and the exhibit area.  I see all kinds of neat things and useful databases, but know it is outside the realm of possibility. Grants often require in-kind support, and we just don't have it. I am not revealing my secrets just yet about how to run a library on a shoestring. Maybe I should write a book about it?
What has been the most fulfilling part of your work in terms of working with nursing archives, collections, nursing students, nurse educators or nurse clinicians?   
Do I need to tell you that nurses are a unique breed of professional and thus require some unique information skills? I do not work in a clinical setting but do work with nurses on a daily basis since they comprise a significant percentage of staff. I find nurses to be very respectful of librarians. Those nurses who have formed friendships with librarians during their studies are my biggest fans and most frequent patrons. I have a very loose theory that there are parallels between nurses and librarians. Both are predominately female, both developed around the same time. Nursing as a profession pushed to have schools and hospitals to have libraries for the nurses to use for personal and professional development. This intertwining is most evident in an organization of organizations: The Interagency Council on Information Resources in Nursing.  It is comprised of nurses and librarians who collaborate in developing resources to support nursing practice. (see Essential Nursing Resources at www.icirn.org)  It is personally and professionally fulfilling to work on the ICIRN council knowing that I am remotely helping a student nurse to learn, support a practicing nurse to be aware of the latest tools, and to be enriched by the skills, knowledge and abilities of my fellow librarians who participate on the ICIRN council.
Are there any commonalities between your divinity degree education/experience, library science degree, hobbies and your current work?
I believe that each of us at this point in time is the summation of all that we are, including education, hobbies, work, and experiences. I would like to believe that my divinity preparation for pastoral work provided necessary people skills. Thinking on your feet and having an analytical perspective are important in both situations. As librarians we often have to intuit what information someone is seeking. We do this in pastoral care as well. My hobbies are photography, travel and being a foodie, which covers a lot of territory and provides that entry into understanding people and their situations.
How did you first come to know NN/LM SE/A?
Being appointed the ANA organizational representative to ICIRN introduced me to NLM. NLM is represented on the ICIRN council.  It was also through the ICIRN council that I was asked to join the Editorial Advisory Committee of the International Nursing Index (INI) that was published in cooperation with the NLM and the American Journal of Nursing. INI is no longer published but is available electronically as the nursing subset within PubMed. Living and working near the National Library of Medicine has been a blessing. I am able to take advantage of the excellent collection, programs offered at the NLM, and I have become friends with a number of staff.
In what ways has NN/LM SE/A been of help to you? (if applicable)
Remembering back to my beginning years in health sciences librarianship I was eager to learn all that I could about searching, research, resources, professional development, trends, issues and future developments. I believe I was able to obtain the answers by participating in programs offered. Networking with colleagues and friends about how we do the things we do has been a tremendous support (I am a solo librarian) and an inspiration in creatively working on challenges.
Can you share a library success story about the impact of a particular work effort that was involved in the planning or operation of the nurse association's move from the mid-west to the Washington, DC area, or in the move to your current quarters?
How many folks can say they started a library? When ANA was in Kansas City, MO the offices were very close to the state university. The library that ANA had in 1972 when they moved was integrated into the university library. Then in 1992, when ANA moved to the DC area, only some of the historical books were brought along. I was hired for the new location as the first librarian ANA had on staff in 20 years and was immediately tasked with creating a library, archive, and overseeing the corporate business records. Talk about hitting the ground running! Over these last 20 years as the organizational focus moved, the library changed to keep apace of those developments. We like many others are inching our way to become more and more virtual.
What advice would you give other librarians who uniquely find themselves in a specialized, niche, health sciences library?  
We are a rare class and not a dying breed! While we are specialists (nursing) within a specialized area (health sciences), we are also experienced in all the other broad areas of knowledge and skills librarians share. Networking is key at this level. Serving the largest healthcare workforce in the nation (nurses) requires your radar to be attuned to multiple layers of interests and activity. Evidenced-based practice demands the data and finding it can be challenging. I am frequently required to research emerging topics and issues that are yet to be made into index terms or subject headings. I am grateful for my love of reading, which helps me figure out concepts and approaches to the literature where a pre-cursor to the new topic can be found. We all speak the same library language. How we apply that language is reflective of our situations.
For more information, please contact PJ Grier, Outreach and Access Coordinator, NN/LM, SE/A Region  (pgrier@hshsl.umaryland.edu).
ABOUT SEA Currents
Email author Visit author's website View all posts by SEA Currents