Inspiring People in our Region: Judy Fell Burnham, Director, Biomedical Library, University of South Alabama
Posted by SEA Currents on October 22nd, 2012 Posted in: All Posts

---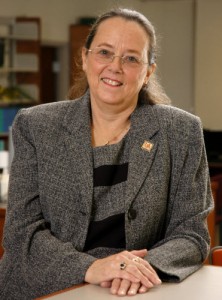 "Look for opportunities to volunteer.  There are always community needs and volunteers are invaluable."
Judy F. Burnham
Director, Biomedical Library
University of South Alabama
Mobile, Alabama
What is your position?
I am currently Director of the University of South Alabama Biomedical Library.
Is there something in your own personal story that led you to do the work you do?
From a professional perspective, I worked in the library during college and really enjoyed it, but family responsibilities took priority for seven years and I was a stay-at-home Mom.  When I went back to work, I worked in the library at a small graduate school, but decided that I wanted to pursue my MLS, a decision I have never regretted even though it wasn't easy to attend college two hours away and leave my family at home.
As far as my outreach emphasis, I started at USA Biomedical Library as an information services librarian at one of our hospitals.  I was later appointed Outreach Librarian, mainly to promote a fee-based program that we had started.  But I also became involved in outreach to the community.
From a personal perspective, my faith has taught me that I should look beyond myself and search for opportunities to help other people improve their life.  I like the saying, "You are blessed to be a blessing."  I have been blessed through education and life experiences with skills that allow me, via outreach activities, to help other improve their lives.
What do you love most about your outreach work?
It gives me the opportunity to stress quality health information to individuals outside of the academic setting.  It has also given me some great networking opportunities.
I am involved in two major outreach projects at the moment.  As a follow-up to the project with health ministry leaders, I am now participating in the Center for Health Communities Community Health Advocates program.  This volunteer group is dedicated to improving the health of their community.  Another project is working every summer with high school students that are in the pipeline program for high school students that are interested in a career in health sciences.  While not all of the students respond the way we want, there are some that are very eager to learn and they are able to use these library literacy skills as they continue on in high school and then go on to college.
What is the biggest challenge in what you do?
As far as outreach, it is helping people see the need for locating quality healthcare information.  People today are so busy and it is sometimes a challenge to get on their agenda.  Also, search engines like Google tend to make individuals think that information they locate in a quick way is sufficient.  However, often that information is inaccurate or biased.  Medical Librarians have to keep repeating the message about the need to evaluate health care information.
What has been the most fulfilling part of your work in terms of health outreach to your community's underserved populations?
I think it is the networking that has taken place.  The groups that I have worked with see me as a resource that they can call on when they need health information.  I have also received a great deal of satisfaction from working with the high school students.  If we can help them to be better high school or college students, then we can help them be more successful.
What do you see as the biggest health concerns in the communities you serve?
Not only lack of health care for some populations and geographic areas, but also education about what health services are available.  I am on the Board of Health InfoNet of Alabama, a group that is trying to meet this need.
How did you first come to know NN/LM SE/A?
Soon after I became a librarian, I found NN/LM SE/A could be a great source of support for identified projects.
In what ways has NN/LM SE/A been of help to you?
NN/LM SE/A has been a source of encouragement and funding and an avenue for sharing of ideas via webinars, etc.
Can you share a success story about the impact of health outreach in your community?
The University of South Alabama Center for Health Communities (CHC) via the Community Health Advocates (CHA) has tried to impact the health of the groups represented by the CHAs by providing funding and resources.  The CHC Health Disparities Research Group has provided funding and support for several community based participatory research studies that have focused on determining the cause of health disparities and solutions for the problems.  I participate in both of these groups.
What advice would you give others who are interested in doing health outreach work in their communities?
Look for opportunities to volunteer.  There are always community needs and volunteers are invaluable.  Network with others with similar interests and you will soon see how you can use your library skills to contribute to a solution.
For additional information, please contact Sheila Snow-Croft at ssnowcro@hshsl.umaryland.edu.
ABOUT SEA Currents
Email author Visit author's website View all posts by SEA Currents