Inspiring People in our Region: Ronnie Bass, MSCM – Founder, CEO, Executive Director of Someone Cares, Inc. of Atlanta EDIC (Early Detection Invervention Clinic)
Posted by SEA Currents on March 8th, 2013 Posted in: Outreach

---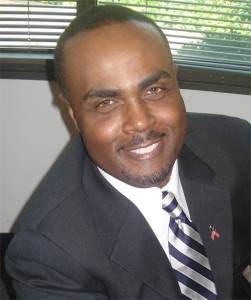 "Have a passion for serving people with patience, dignity, and respect first and foremost!"
Ronnie Bass, MSCM
Founder, CEO, Executive Director of Someone Cares, Inc. of Atlanta EDIC (Early Detection Invention Clinic)
Atlanta, GA
What is your position?
Founder, CEO, Executive Director of Someone Cares, Inc. of Atlanta EDIC (Early Detection Intervention Clinic)
Someone Cares (S1C) is one of the leading African American, Latino, MSM (Men who have Sex with Men), and Transgender HIV/AIDS community based outreach organizations in the Southeastern Region of the United States. We address health disparities and connection to care in North Carolina, South Carolina, Georgia, and Florida.  Someone Cares Inc. provides HIV/AIDS/STD prevention education, interventions, advocacy, support services, counseling, testing, research, screening, and treatment.
Is there something in your own personal story that led you to do the work you do?
Growing up in the 80's and 90's, the United States was just beginning to acknowledge that human immunodeficiency virus was not just a homosexual disease, but a disease that kills anyone; men, women, children, straight, gay, and lesbians. It took the deaths of famous people to draw attention to how this disease has no respect of person. I remember hearing about Rock Hudson's illness, and later death, which shook America. His death, as sad as it was, became an awakening to many. It made the people of this country stand up and take a more urgent interest in this disease, which resulted in funding into research to combat it. Black America woke up when basketball great Magic Johnson disclosed his HIV status. While growing up, several of my friends had become infected or died. I wanted to help do my part in educating the community of this dreadful disease. By God's Grace and Mercies, I am here today. God, by perpetually providing the agency with the resources that we need to help, has kept me focused on what I can and should do with my life. I am in my purpose.
I had my first experience with HIV/AIDS in Jacksonville Florida where I was an Outreach Worker. In the early 90's, Jacksonville was ranked third in the top cities with the number of HIV cases reported. As an Outreach Worker I had hands on experience with infected and affected people. There I had counseled and tested thousands. I was particularly touched when an 18-year-old youth came to me for a test, and after testing him, found that not only did he have HIV, but also AIDS. His T-cell count was below 200 and he had no knowledge of the disease. It was then that I started "Someone Cares."
What do you love most about your outreach work?
I enjoy meeting people where they are.
SC has extraordinary access to the communities and places where the African American, Latino, MSM, and Transgender congregate and address health disparities. We have become "Gatekeepers." The S1C agency has access to parks, bathhouses, clubs, adult bookstores, private sex parties, internet chat rooms, etc. In these settings, S1C is able to convey prevention messages and provide HIV/AIDS/STD testing, condom distribution, interventions, and educational information. Having obtained their confidence in a non-judgmental way, the African American, Latino, MSM, and Transgender communities have become more open to discussions about reducing "at risk" behavior. They have also become more open to invitations to attend weekly social network gatherings and empowerment group meetings. It is here where we reach one, teach one.
What is the biggest challenge in what you do?
My biggest challenge is reaching the younger African American MSM generation. Each day there are new opportunities for unprotected sex in the youth community, and I am concerned that my antiquated prevention methods might not be able to do the job.
The CDC fact sheet report is alarming about the African American community.
CDC Reports that:
African Americans have the most severe burden of HIV of all racial/ethnic groups in the United States. Compared with other races and ethnicities, African Americans account for a higher proportion of HIV infections at all stages of disease—from new infections to deaths.
African Americans accounted for an estimated 44% of all new HIV infections occurring among adults and adolescents (aged 13 years or older) in 2010, despite representing only 12% to14% of the US population.
In 2010, black gay, bisexual, and other MSM represented an estimated 72% (10,600) of new infections among all black men and 36% of an estimated 29,800 new HIV infections among all MSM. More new HIV infections (4,800) occurred among young black MSM (aged 13-24) than any other age or racial group of MSM ages of disease—from new infections to deaths.
What has been the most fulfilling part of your work in terms of health outreach to your community's underserved populations?
The most fulfilling part of each day as I work toward fulfilling the Someone Cares Mission, is reaching out to the LGBTQ community to empower each individual we encounter to make safe, responsible choices in their sexual decisions. My desire is to enlighten people in the hopes that some subconscious intervention seed(s) are being planted that will eventually take hold in their conscious minds and protect them from getting infected.
For those who are already infected, or affected, I feel fulfilled when reassuring them that they are not alone and that their diagnosis of HIV/ AIDS is not a death sentence. We do this by offering them a structured support system for treatment, no matter their prognosis.
Fulfillment also comes in the form of assisting those who are constantly misjudged, rejected, and abandoned because of their authentic sexual identity or due to multiple issues regarding their HIV/AIDS status.  They can feel overwhelmed by their situation, which increases their at-risk behaviors and self-neglect. If I can only reach one a day, or one a week, I feel that we are doing our job by being more than just another nonprofit agency; we give them confidence that we are there for them as a friend!
What do you see as the biggest health concerns in the communities you serve?
Lawmakers have been slashing funding for HIV testing and treatment that falls under Medicaid. Although the U.S. Preventative Task Force recommended that all community health clinics, which serve poorer regions, conduct free HIV testing, many centers have not had enough resources to follow through. The issue has been exacerbated by governors who have refused to implement Obamacare Medicaid expansion. Expanding Medicaid would extend insurance coverage to millions of low-income Americans, including more access to HIV testing and treatments. Instead, some leaders are making aggressive cuts to their state-level Medicaid programs. For example, Louisiana recently cut a case management program for low-income HIV patients.
How did you first come to know NN/LM SE/A?
A fellow agency provided us with NN/LM SE/A funding information. S1C submitted a proposal and was awarded funding for "The REACH Project," through which we conduct research, and train HIV positive Transgender individuals on how to access reliable health information.
In what ways has NN/LM SE/A been of help to you?
Through the funding provided by NN/LM SE/A, Someone Cares has broadened the HIV Transgender knowledge base in the areas of HIV medicine and hormone therapy to better understand effects on the physical body of the infected Transgender. Our project has been a great success in transforming mental health and implementing necessary lifestyle changes for the HIV Transgender community. We bridge the gap in healing for individuals frustrated by their desire to be physically identified by their true gender while also dealing with the many challenges of adhering to their HIV medications and/or hormone treatments.
Can you share a success story about the impact of health outreach in your community?
Someone Cares has been humbled and blessed to have numerous success stories in our 17 years of existence, but there is one that stands out from the rest, when S1C received its state certified CLIA waiver to provide rapid HIV testing, that was a joyful day! That meant S1C could test in alternative LGBTQ venues, reaching people where they are. This enabled S1C to have a greater reach into the LGBTQ community, which helped to alleviate barriers that prevent people from becoming aware and knowing one's HIV status.
What advice would you give others who are interested in doing health outreach work in their communities?
My advice to others, who have an earnest interest in doing health outreach work in their communities, is:
Have a passion for serving people with patience, dignity, and respect first and foremost!
Don't be motivated by a paycheck, but rather by a focused purpose with your passion.    (It will take you further than you could ever imagine.)
Your outreach work should be as much a calling to your vocation as is a ministry.    (This agency is my purpose and my ministry as well, to which I have dedicated my life!)
Act upon whatever your hands, put to work, can do.
Get the job done with urgency for progress in their communityIf you would like to share your story or suggest another person for our "Inspiring People" feature, please email Nancy Patterson:  npatters@hshsl.umaryland.edu
ABOUT SEA Currents
Email author Visit author's website View all posts by SEA Currents