What We Learned: MLA13 – Posters, posters, and more posters
Posted by SEA Currents on June 4th, 2013 Posted in: All Posts

---
By David Midyette, Outreach and Communications Coordinator, NN/LM, SE/ A Region
Despite having gone to professional meetings for many years, this was my first time preparing and presenting a poster (a VERY big thanks to my co-authors Andrew Youngkin and Sheila Snow-Croft).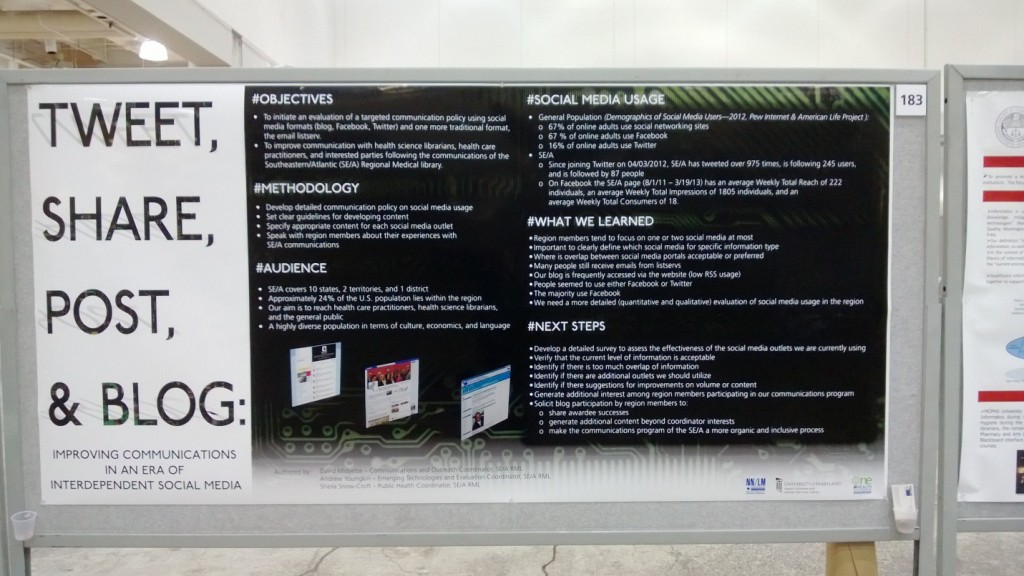 I have long been a lurker at poster sessions, scanning the aisles for snippets of wisdom and clues as to what types of research or applications were being conducted and developed. My problems with posters have always been that there is generally limited space for them and that if you miss the session, then you miss the poster because they are so ephemeral. At MLA13, there was an enormous area devoted to posters and they were available throughout the conference. This made the experience far more rewarding because you could explore new ideas during exhibit hall hours without having to rush, although, I did spy more than a few folks taking photos of posters with their smart devices for later examination. I knew I wanted to write this blog post on the topic, so I followed suit and have attached some of the images.
Posters as a presentation format are particularly appealing because they are far more interactive than a paper presentation. The ability to speak directly to individual interests, needs, and concerns makes them an exceptionally valuable experience. Many institutions are now including them in institutional repositories to add to the collective knowledge and experience of the institution. The HS/HSL here does the same thing. (http://archive.hshsl.umaryland.edu/ ) Given the fleeting and primarily conversational nature of the format, it will be interesting to see if a more direct archiving of the information will change the information landscape.
The MLA13 posters were truly broad in scope given the international and cross-disciplinary nature of the conference. The variety of topics within the larger realm of health sciences was amazing. It was particularly interesting to see the inclusion of veterinary health information as it applied to zoonoses and the intersection of animal and human health. However, the majority of posters focused on topics related to library practice in the health sciences. Several posters stood out based on my interests in systematic reviews (SRs), social media, and library services.
Some of the more notable SR posters include: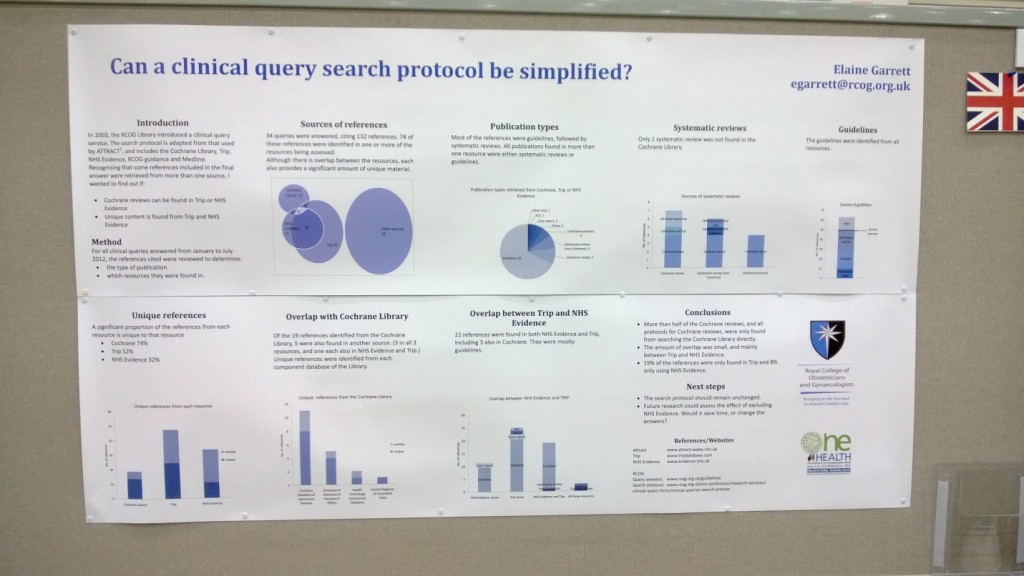 Poster 53 by Elaine Garrett looked at overlap in content retrieved during a SR search to see if the search protocol could be streamlined and made more efficient.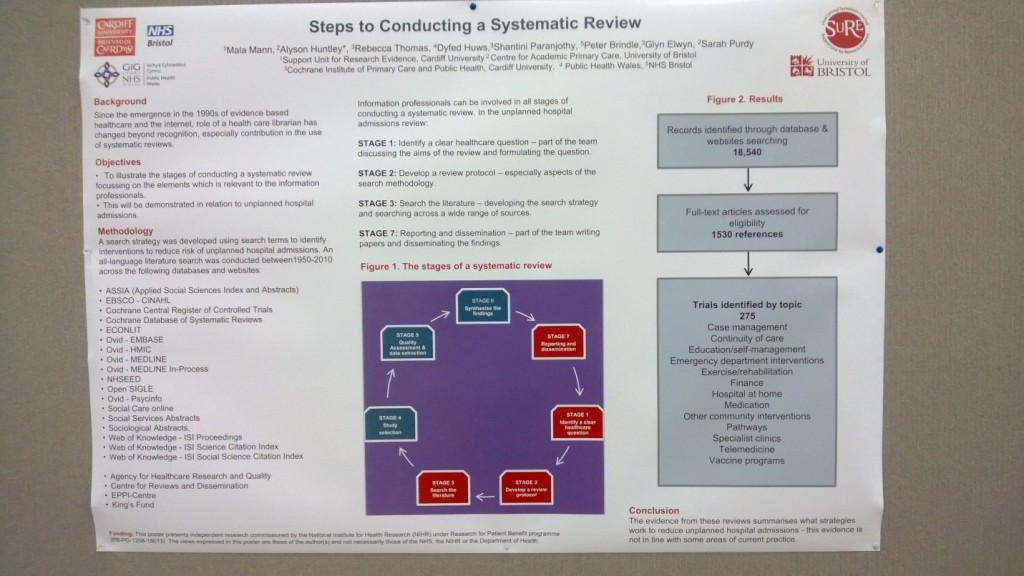 Poster 107 by Mala Mann, et al, presented a concise overview of the steps in the SR process in relation to an actual query on reducing unplanned hospital admissions.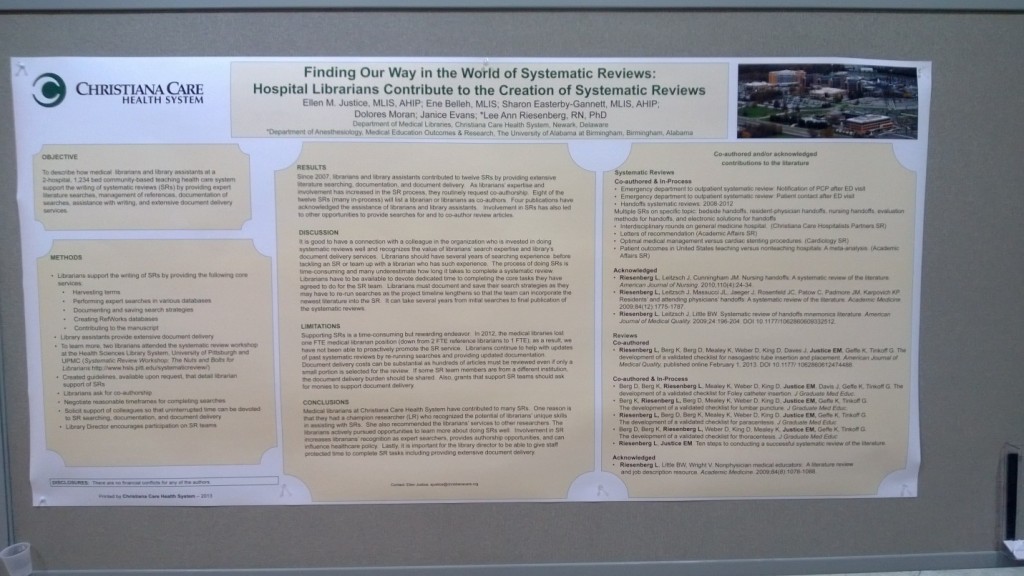 Poster 110 by Ellen Justice, et al, examined the role of hospital librarians in the SR process.
Social media posters also dealt with a range of topics from overload to archiving to policies to usage: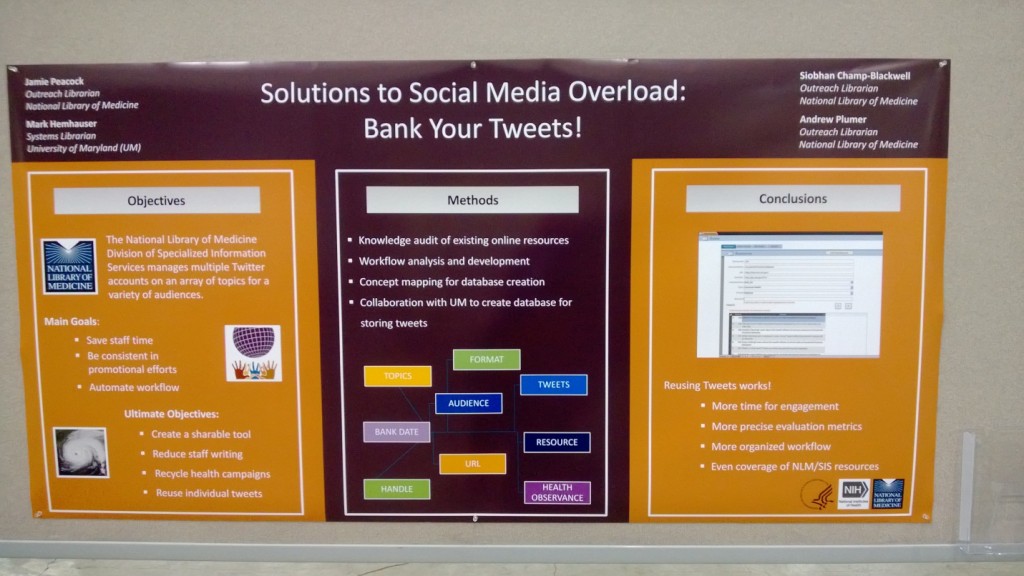 Poster 91 by Siobhan Champ-Blackwell, et al, looked at managing multiple twitter accounts at an NLM division, and concluded that reusing tweets helped them improve workflows and provide even coverage.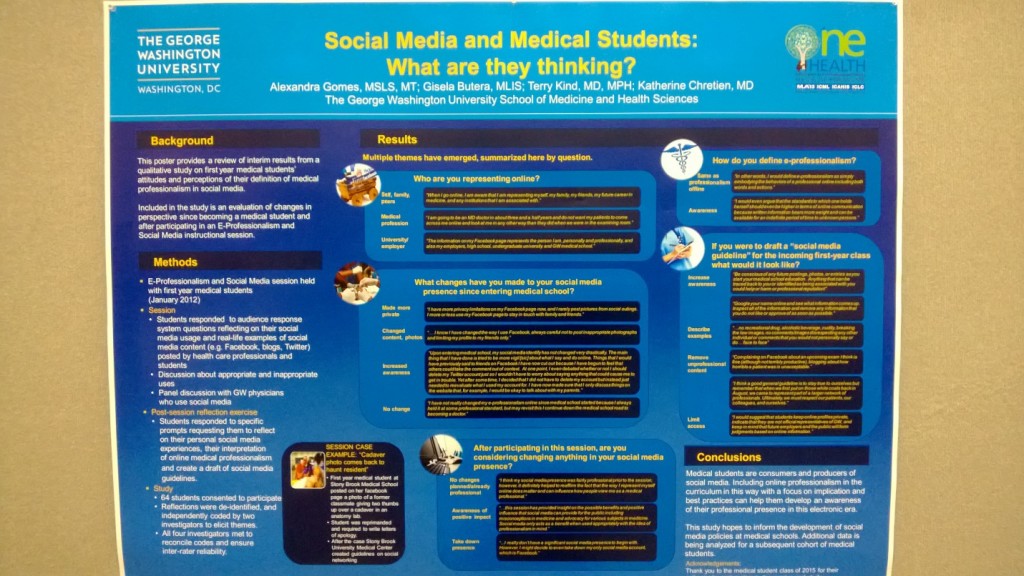 Poster 87 by Alexandra Gomes, et al, examined the intersection of social media and professionalism in first year medical students with the goal of developing social media policies to help guide the students in their development.
Library services posters encompassed a wide variety, but some of the more unusual ones included: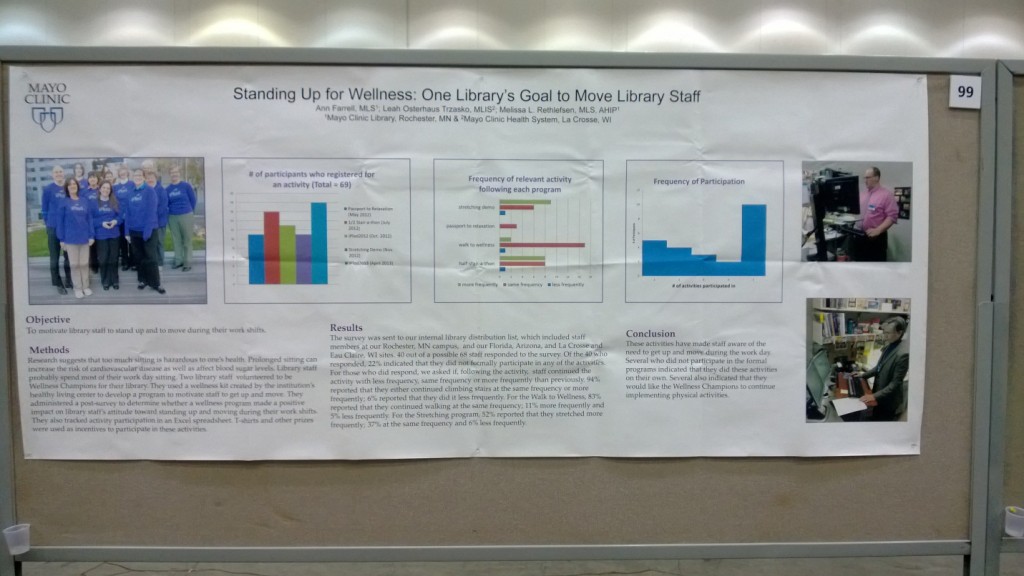 Poster 99 by Ann Farrell, et al, focused on getting their library employees to stand up and move rather than sitting at their desks as part of a wellness program at their institution.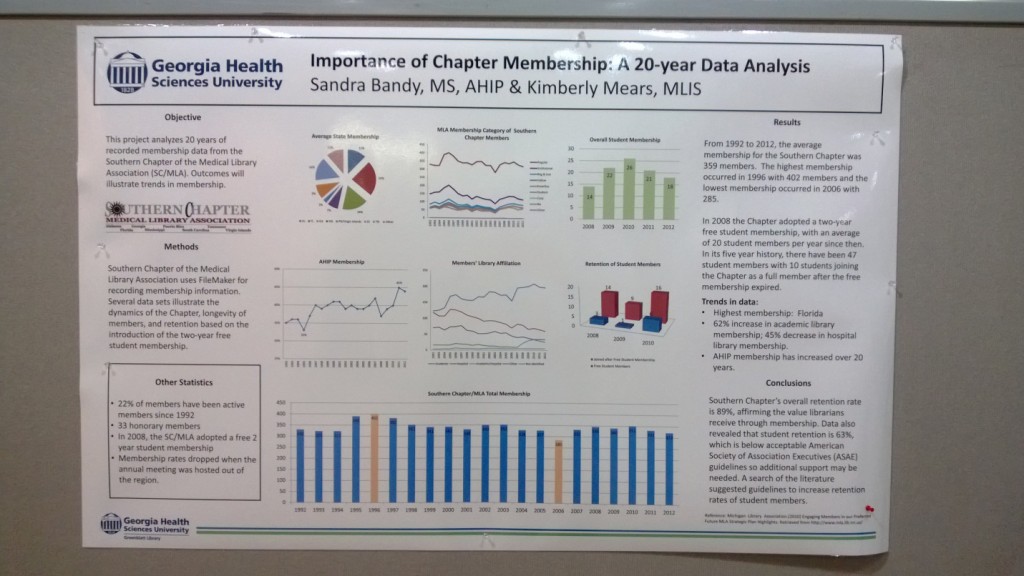 Poster 148 by Sandra Bandy and Kim Mears covered their 20 year analysis of membership data from the Southern Chapter, concluding that professional membership is valuable and that there is room for improving.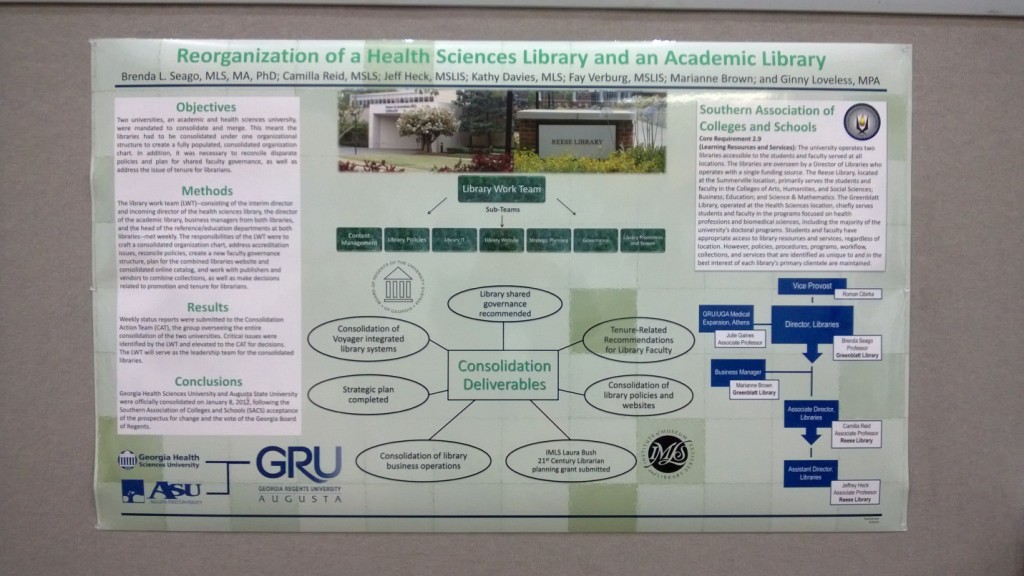 Poster 63 by Brenda Seago, et al, provided a rather detailed look at the complexities of merging and reorganizing a health science library with an academic library.
Overall, the posters were truly enlightening and I was very glad to have the opportunity to explore them in greater depth over a longer period of time. One final thought is that the number and quality of posters from the SE/A region was exceptional!
v\:* {behavior:url(#default#VML);}
o\:* {behavior:url(#default#VML);}
w\:* {behavior:url(#default#VML);}
.shape {behavior:url(#default#VML);}
Normal
0
false
false
false
false
EN-US
X-NONE
X-NONE
/* Style Definitions */
table.MsoNormalTable
{mso-style-name:"Table Normal";
mso-tstyle-rowband-size:0;
mso-tstyle-colband-size:0;
mso-style-noshow:yes;
mso-style-priority:99;
mso-style-parent:"";
mso-padding-alt:0in 5.4pt 0in 5.4pt;
mso-para-margin-top:0in;
mso-para-margin-right:0in;
mso-para-margin-bottom:10.0pt;
mso-para-margin-left:0in;
line-height:115%;
mso-pagination:widow-orphan;
font-size:11.0pt;
font-family:"Calibri","sans-serif";
mso-ascii-font-family:Calibri;
mso-ascii-theme-font:minor-latin;
mso-hansi-font-family:Calibri;
mso-hansi-theme-font:minor-latin;
mso-bidi-font-family:"Times New Roman";
mso-bidi-theme-font:minor-bidi;}
ABOUT SEA Currents
Email author Visit author's website View all posts by SEA Currents