What We Learned: Exhibiting at a Nursing Conference
Posted by SEA Currents on June 28th, 2013 Posted in: Outreach

---
By David Midyette, Outreach and Communications Coordinator
SE/A coordinators exhibit at over 20 conferences every year, and many of those are for nursing associations and groups. Personally, I find these groups very interesting and quite diverse. Recently, while exhibiting at a nursing conference in Nashville, TN, I had the pleasure of speaking with many nurse educators about NLM and the resources we offer. While it was great to hear how much they love us and how they frequently use MedlinePlus and Pubmed, it was even more rewarding to help them discover new resources for their students.
To a person, they all commented on how their students lack awareness about toxic substances their incoming patients might have encountered. The discussions centered on teaching new nursing students about collecting patient histories and other intake information. I showed them ToxTown (http://toxtown.nlm.nih.gov/) and they were rather excited to have such a well-developed resource to share with their students and incorporate into their own curricula. They really appreciated having teacher resources to easily incorporate into their classes, the ability to direct students to an interactive website, and the wealth of supporting information at an accessible level.
Naturally, this led to a second discussion about another valuable resource, GeneEd (http://geneed.nlm.nih.gov/). Again, they loved the resources for teachers and the clear, accessible layout of the site. In particular, they liked that they could use the site to provide a refresher for their students, and in some cases, expose their students to the basics of genetics. The majority of their students are coming straight from high school and they felt that the site meshed well with the educational levels of incoming students without overwhelming them. One particular segment of GeneEd that they particularly liked was the section on Biostatistics. More than one of them remarked that they could benefit from the section in refreshing their own understanding of the topic.
I had the pleasure of speaking to nearly 100 people at this conference, and with over 300 visitors to the booth it was a very successful event for SE/A. The nursing community has a wide range of interests and it is very rewarding to show nurses in clinical practice how we can help them with databases like LactMed (http://lactmed.nlm.nih.gov), LiverTox (http://livertox.nih.gov/), and DrugInfo (http://druginfo.nlm.nih.gov). Additionally, there was great interest in MedlinePlus Connect (http://www.nlm.nih.gov/medlineplus/connect/overview.html) and Clinical Trials (http://clinicaltrials.gov/).
MedlinePlus Connect is becoming increasingly important to nursing as Electronic Health Records have become ubiquitous in clinical settings. Many of the nurses I spoke with were familiar with EHRs but had little knowledge of where the patient care resources were coming from in the systems used by their institutions. Connecting a familiar resource (MedlinePlus) with direct patient care through an EHR system really resonated with them, and they had questions about how to make it happen. Having cards on the topic made it much easier to provide them with basic information that they could take back to their administrators and IT groups.
Clinical Trials is evolving into a well-rounded research database as more and more results are added. The attendees appreciated the ability to connect their patients to potential trials related to specific conditions, and those who were conducting research appreciated being able to connect to results and data in such a direct fashion.
It is truly amazing to get out of the library and into the places where practitioners, researchers, and educators gather to discuss issues crucial to their profession. Being able to help them at a place and time when their minds are focused on their practice and profession in such a directed manner is a unique opportunity for sharing the wealth of resources and services from NLM. If you would like to get involved in exhibiting, we offer exhibit awards throughout the year (http://nnlm.gov/sea/funding/exhibit.html). If you have any questions, want to exhibit with us, or just want to drop in at an exhibit, check with me (dmidyette@hshsl.umaryland.edu) and I can provide you with more information.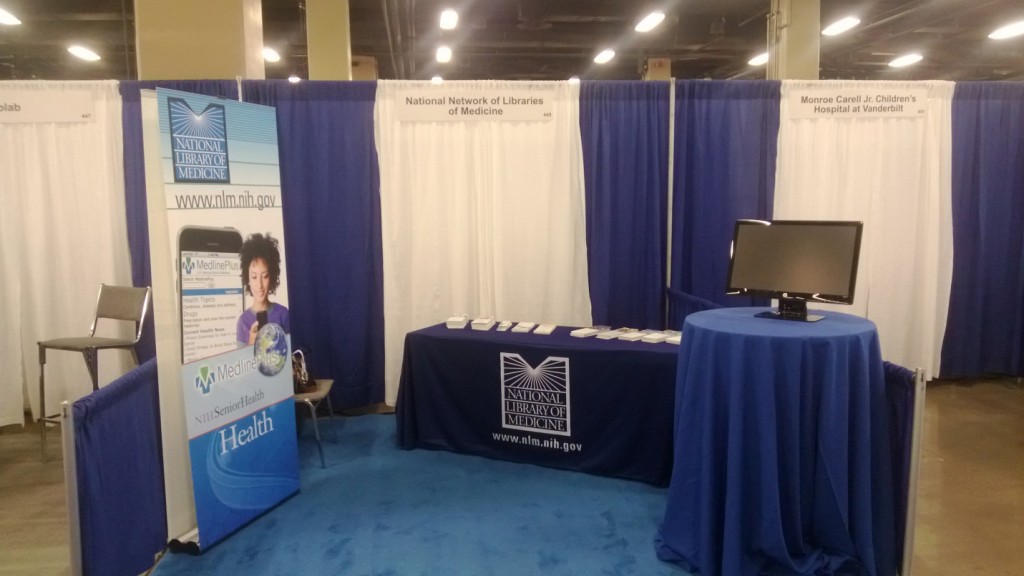 ABOUT SEA Currents
Email author Visit author's website View all posts by SEA Currents