So you want to Tweet your library . . . .
Posted by SEA Currents on July 10th, 2013 Posted in: Technology

---
By David Midyette, Outreach and Communications Coordinator, NN/LM SE/A Region
Twitter is not for everyone, but a growing number of social media users are joining this arena and it is important to reach them. According to the Statistic Brain website, as of 05/07/2013 there are:
554,750,000 active registered Twitter user
135,000 new registrations every day
58 million tweets each day
115 million active Twitter users each month
at least 40% of Twitter users watch but do not tweet
These figures represent a substantial audience, and while not everyone will flock to your site, you can rather quickly develop a following and share crucial information with your constituents who do tweet.
But how easy is it, you may ask? How can I possibly find the time? Well, here is my quick guide for joining and managing the Twittersphere.
Join Twitter:
Go to Twitter and register for an account (set up a Gmail account rather than use a personal work email for the purpose of registration).
Start following:
You can use the search box in Twitter to find people to follow.
Search for NLM or Medical Library or CDC or Health, and follow the ones you like.
You can also follow @NNLMSEA and then follow some of the same accounts we follow.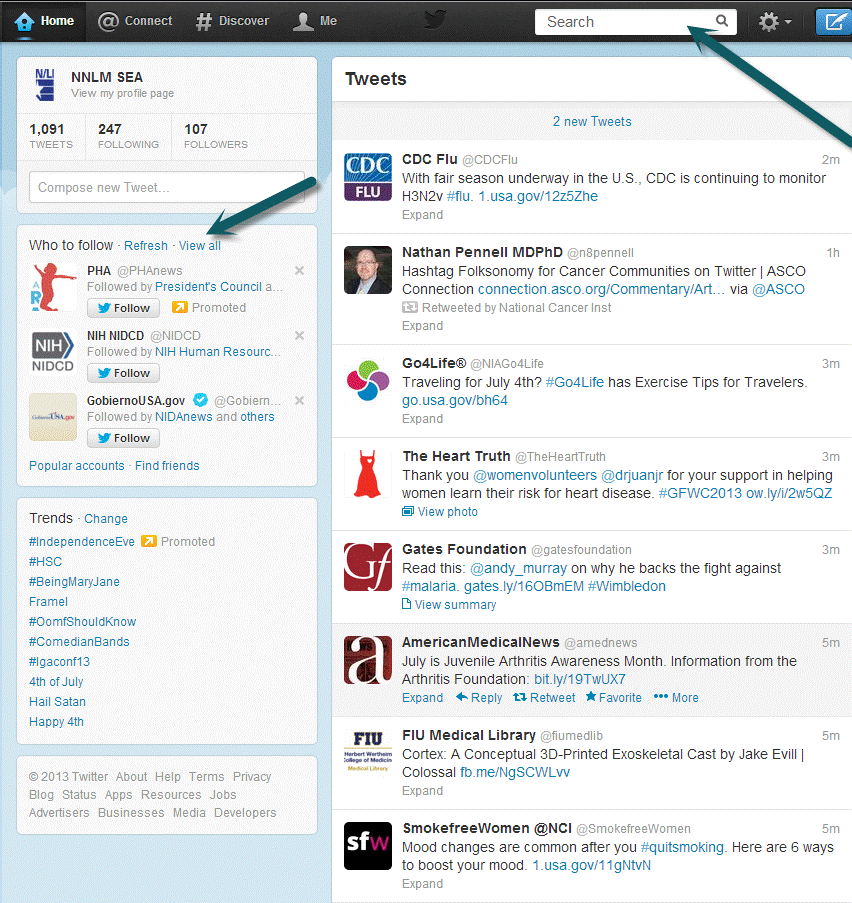 Start tweeting:
You can either retweet other's tweets or create your own.
To retweet, just hover over the post you want to share and click on "retweet."
To create your own tweet, click in the "Compose new tweet" box and start typing.
Remember that tweets are only 140 characters, so use your space wisely:
Use a URL shortener, e.g., Ow.ly or Bitly
Put URLs in the first half of the tweet
Use @ handles to identify yourself (helps develop a following)
Use hashtags (#) to make your tweets searchable by keyword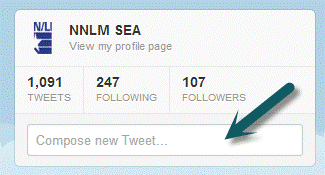 Advanced Social Media:
Pick a Twitter tool like Hootsuite or Tweetdeck.
Personally, I prefer Hootsuite because it is web based and I can use it from any computer.
If you tweet from a smart device, you may prefer the Tweetdeck app.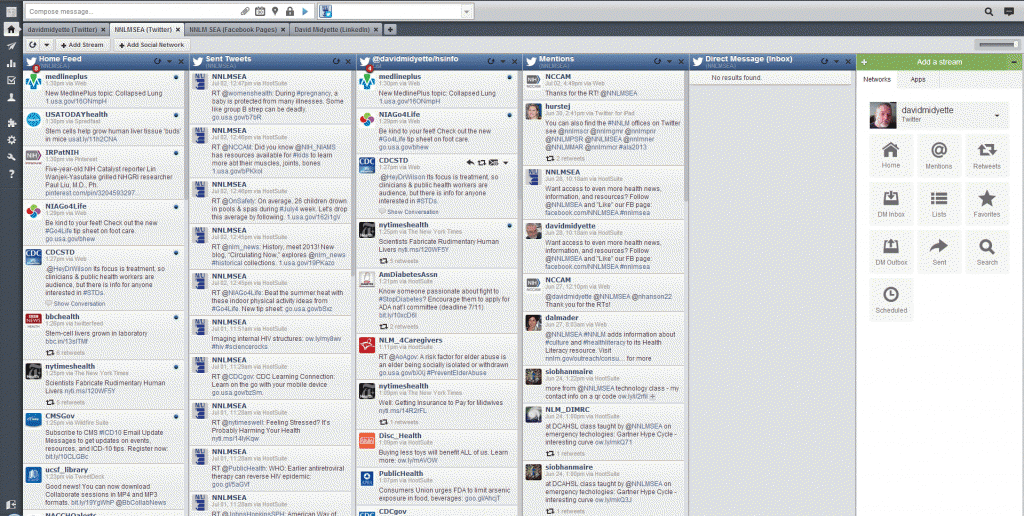 and a host of other options. This tool has made it much easier to manage multiple accounts, but as a beginner, you can easily run things directly from Twitter.
Nitty Gritty:
With my tweeting tools before me, I scan through the list of tweets at a specific time (usually around 10am). I select five or six tweets that seem of interest to the Region and retweet them. I click on the hyperlinks in the tweets to pull up the corresponding web page. I then take that URL and post it to our SE/A Facebook page with a basic descriptive sentence. If other items of interest appear during the day, I may do additional tweets, but for the most part I try to get information out at a time during the day when most folks have already done several hours of work and might be taking a break to catch up on the latest information. Tweeting for only 15 minutes two or three times a week can reach a large audience and market your library as a quality source of information.
If you have specific question or need help, please let me know (dmidyette@hshsl.umaryland.edu). I love talking about information sharing, especially with social media.
ABOUT SEA Currents
Email author Visit author's website View all posts by SEA Currents