SE/A Welcomes New Outreach and Communication Coordinator, Tony Nguyen
Posted by SEA Currents on January 13th, 2014 Posted in: All Posts

---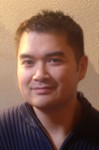 On February 10, 2014, the Southeastern/Atlantic Region will welcome Tony Nguyen (tnguyen@hshsl.umaryland.edu) as our new Outreach/Communications Coordinator. In this role, Tony will coordinate and facilitate the exhibits and the SE/A communications program. He will also work with health care and information professionals in the region, performing outreach, training, and program management.
Tony received a Bachelor of Arts in Japanese and International Studies at The Ohio State University and a Masters of Library and Information Sciences from Kent State University. Before joining NN/LM SE/A, Tony worked at Mount Carmel Health Sciences Library in Columbus, OH as a Health Sciences Librarian supporting both the Health System and College of Nursing. He has worked on and contributed to projects that include the development of a new consumer health library, establishing iTunes University as a platform to support Graduate Medical Education programs, and implemented and executed librarian support during clinical rounds with physicians and residents. He has worked previously as the Director of Marketing and Outreach for The Princeton Review where he liaised with a diverse clientele in Indiana, Kentucky, Ohio, and West Virginia, developed and wrote tailored instructional sessions, and implemented social media within the territory to support outreach initiatives.
Tony's professional research interests include information policy, information seeking behaviors of minority populations, and cross-discipline approaches to support the information needs of various population groups. His personal interests include art, art history, Japanese cultural studies, and yoga.
ABOUT SEA Currents
Email author Visit author's website View all posts by SEA Currents