Inspiring People in Our Region: Kimberley Barker, MLIS, Emerging Technologies & Systems Manager, Claude Moore Health Sciences Library, University of Virginia
Posted by SEA Currents on February 5th, 2014 Posted in: All Posts

---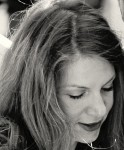 Kimberley Barker, MLIS
University of Virginia
Claude Moore Health Sciences Library
Emerging Technologies & Systems Manager
What is your position and how long have you been a health sciences librarian?
My current title is Emerging Technologies & Systems Manager. I manage a small department which is responsible for all of the Library's technology (minus web responsibilities). In a nutshell, we order, deploy, and maintain all staff and public computers, printers, scanners, etc. The emerging technologies part of my job is my favorite, as it allows me to think creatively and to express that with classes, consults, lunchtime discussions, and presentations. I don't self-identify as a health sciences librarian, as I don't do the traditional work of one: no literature searches, no teaching PubMed, etc. To claim that title would feel like flying under false colors. I've really come to think of myself as a technologist who has an MLIS, and whose primary focus is healthcare-related technology. I came to UVa four years ago, and that was the beginning of my involvement in health sciences librarianship. Yes, I was a complete newbie in this world!
How did you become interested in the technology aspect of health sciences librarianship?
About five years ago, I was suffering burn-out with traditional library work, and found myself more and more interested in the intersection of libraries and technology (maker spaces, etc). I remember finding an article in my RSS feeds about virtual reality and the treatment of burn victims, which really peaked my interest and opened the door to researching more about healthcare and cutting-edge technology. When the opportunity to apply for the position of Emerging Technologies Librarian at the Claude Moore Health Sciences Library appeared, I pounced on it, even though it was a temporary, two-year position.
What do you find most fulfilling about your position?
When someone who has attended one of my classes, or with whom I've had a consult, comes to me and says, "I learned something from you that has made a difference in my life", well, there's no better feeling. To know that the hours I've spent researching a topic, creating a presentation, and planning the most effective ways to communicate the information has paid off in a tangible way makes it all worthwhile. Like everyone else, I need my paycheck, but knowing that I'm doing some actual good during the time that I'm away from my child is good for my soul. I also love it when colleagues from other institution say, "Hey, I really like the slide deck that you posted; may I use it for my patrons?"! Of course you can! I love knowing that people I'll never meet will be impacted by my work.
How did you first come to know about NN/LM SE/A?
As I said, prior to coming to UVa I hadn't ever been involved with health sciences libraries in any way. So of course I knew nothing about the acronyms that were tossed around during the course of a normal workday. I started writing them down and Googling them, and that's how I learned about NN/LM SE/A. At some point within my first year and a half, Bart Ragon and I taught a class at the RML (yet another term that I'd had to Google!), and I met M.J. Tooey, Dale Prince, and some of the other lovely folks who work there. From that meeting, my involvement grew and I was eventually asked to serve as Chair of the Technology RAC.
How has NN/LM SE/A been of help to you?
NN/LM SE/A has provided me with many opportunities to connect with people and resources and, in the work that it invited me to do through it, has taught me so much about how the National Network and its various regional networks operate. That in turn has introduced me to how the wider health sciences library community is connected and operates.
What do you think are the greatest challenges within health sciences librarianship in regards to new technologies?
There's no doubt in my mind that the three greatest challenges are lack of funds, lack of time, and lack of technological support. Budgets are tight, and most of the money must be devoted to the "meat and potatoes" of libraries: databases and journals. Along with tightened budgets have come reduced staffs: with fewer people but no reduction in the demands made on them, something has to give and that "something" is NOT going to be core services such as literature searches. Lack of support from the institution's technology department is also a huge challenge. I don't mean to imply that technology departments don't care about libraries; many do, but may be unable to do anything about roadblocks such as firewalls. Also, technology departments are often facing the same budget and staff constraints as libraries and, while they may WANT to provide help with experimental technology, they may not be able to do so.
Can you share a success story about a recent technology project or initiative at your library?
The groundwork for what is one of my best contributions to the Health System was laid three years ago when I began teaching a class on online identity, which included a section on online reputation management. I grew to believe that the reputation management part was so important that I developed an entire class around the topic. The class was immediately popular with a wide variety of patrons, and was also championed by several members of the Health System's administration. Unbeknownst to me, a care provider who had experienced reputation damage attended one of these classes, and took steps to repair the damage based on what he learned in my class. Eventually my director and I met with both the care provider and the head of communications for the Health System, and that sparked more conversations with Health System administrators. When asked by them what I thought that the Health System should do about reputation management, I responded that we should have a contract with a company in much the same way we do with legal counsel. I was thanked for my input, and didn't think much more about it. Well, I found out recently that my director and I have been appointed to a Requests for Proposals working group to investigate reputation management services for the Health System. I am very gratified by our inclusion, and thankful for the opportunity to be a part of something that I consider to be so incredibly important.
What technology topics are most important for health science librarians to understand right now?
3D printing and its implications for healthcare (prosthetics, medications, tracheas- all have been 3D printed) is a huge story right now. This is a great "elevator speech" topic. Wearable technology such as Google Glass has lots of implications for healthcare- surgeries, for example- as well as devices such as smartwatches that track heart rate, sleep, etc.
What advice would you give to a new health sciences librarian with an interest in technology?
I would tell a new health sciences librarian (regardless of whether or not they're interested in technology) to get on Twitter immediately and search for #medlibs! This is a hugely-supportive community where you will easily get to know people. #medlibs also sponsors a weekly chat (Thursdays, at 9PM EST) with a different topic and moderator each week. It is very easy to find a place for yourself within this community, no matter what your interest, and I credit my medical librarian tweeps 100% for the acceptance and encouragement that I've found in the health sciences libraries community.
For further information, please contact Andrew Youngkin, Emerging Technologies/Evaluation Coordinator
ABOUT SEA Currents
Email author Visit author's website View all posts by SEA Currents