Inspiring People in Our Region: Grace Gmeindl, Outreach Liaison, Health Science Library, West Virginia University
Posted by SEA Currents on March 14th, 2014 Posted in: All Posts

---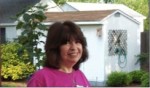 "I became a one-woman traveling library!"
Grace Gmeindl
Outreach Liaison, Health Sciences Library
West Virginia University, Morgantown WV
What is your position?
I am the Outreach Liaison for West Virginia University (WVU) at the Health Sciences Library.
Is there something in your own personal story that led you to do the work you do?
My father always made time to help the less fortunate in our community, so I've always believed in volunteer work. The Express Outreach Project Award has made it possible for me to deliver library instruction on health information to underserved regions of West Virginia. It has been a great way to counter health disparities as well as carry on the family tradition.
What do you love most about your work?
Most West Virginians are friendly and welcoming. Many had never been in a medical library before, so they were curious about my job and eager to learn. For me, it was a chance to meet new people and learn more about West Virginia. I became a one-woman traveling library! Promoting health information and setting up displays provided an opportunity to be creative and tailor to new groups outside of the library environment.
What is the biggest challenge in what you do?
Although West Virginia is quite beautiful, the mountainous terrain can make for hazardous travel during the winter and possible flooding in the spring. There are a few areas that lack cellphone /internet coverage. Some counties have daunting statistics and are overwhelmed with poverty, unemployment, obesity, and drug abuse. Fortunately, programs like the After School Program for Teens (through the West Virginia Extension Service) are making a difference.
What has been the most fulfilling part of your work in terms of getting health information out to your community?
Starting a program from scratch and building collaborations requires time and patience. Meeting teens, seniors, veterans, and other members of the community renewed my mission and raised awareness of our library. After many hours of searching for partnerships, it was very nice when people started to call and invite me to present at their events. That was a turning point.
What do you see as the biggest health concerns in the community you serve?
Smoking, lung cancer, obesity, and diabetes all seem to go hand in hand with poverty and economic status, but we are seeing better trends as we educate young people and promote health screenings across the State.
How did you first come to know NN/LM SE/A?
As a hospital librarian, I relied on DOCLINE to acquire articles needed by the physicians, nurses, and other hospital staff. I don't think the library could have managed without them.
In what ways has NN/LM SE/A been of help to you?
The online training materials are excellent guides for planning, development, and assessment of outreach projects. The staff of NN/LM SE/A has been very helpful in answering my many questions, and I'm very grateful to them for their expertise. The required reporting forms for the outreach award provide a good way to track progress and assess outcomes.
Can you share a success story about the impact of health outreach in your community?
One patient who was about to have surgery told me that—had he not been armed with knowledge to access reliable health information—he would never have known what questions to ask his doctors. He was able to undergo major surgery with confidence in his decision.
Using tablets to teach teens worked much better than the traditional computer lab demonstration. This age group is far more comfortable learning with phones and other mobile devices, and I found them to be very receptive to sources for health information.
What advice would you give others who are interested in doing health outreach work in their communities?
Although it can take years to develop a successful outreach program, it is well worth the effort and enhances our mission to help underserved populations. Health outreach to educate or inform the target population can increase their knowledge and skills and establish beneficial connections between people and medical libraries.
If you would like to share your story or suggest another person for our "Inspiring People" feature, please email Nancy Patterson: npatters@hshsl.umaryland.edu
ABOUT SEA Currents
Email author Visit author's website View all posts by SEA Currents