National Medical Librarians Month Feature: IRB Service Helps Researchers and Patients
Posted by SEA Currents on October 1st, 2018 Posted in: Advocacy, Funding, Outreach

---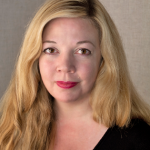 Everly Brown, MLIS
Head of Information Services
University of Maryland, Baltimore
Health Sciences and Human Services Library
Since 2011, the University of Maryland, Baltimore's (UMB) Health Sciences and Human Services Library (HS/HSL) has been operating a successful free service to review consent forms for researchers on campus. The University's Institutional Review Board (IRB) has been a champion of the service and regularly directs principal investigators (PIs) to submit their consent documents to our online submission form. Although the IRB requires that consent forms be written at a seventh-grade reading level, PIs rarely meet this stipulation. When a consent document is submitted for review, a team of trained HS/HSL librarians and staff from the Information Services department receives an email with the document attached. After taking scheduling and availability into account, one of the team members will then volunteer to review the document. It typically takes many hours over several days to modify the documents to an appropriate level for research participants.
The consent form review team uses Microsoft Word to evaluate the forms. We select an option under "proofing" to show readability statistics after running a spelling and grammar check. This allows us to assess the document's number of passive sentences, its Flesch Reading Ease, and Flesch-Kincaid Grade Level. With this standard to measure against, we use Word's Track Changes and Comments to suggest modifications to adjust the reading level and replace passive sentences. Typical edits include substituting complicated terminology for simpler terms, breaking up long sentences, using bullet points, and removing redundant and irrelevant passages. If we have questions for the PI or explanations to make, we use the Comment feature in Word. Since this program's implementation in 2011, we have revised 159 consent forms with 18 so far this year. Consent forms have ranged from 3 to 36 pages long. A few unique submissions were a graphic that was given to study participants and a study requirement flyer. We were obliged to change our turnaround time from 3 business days to 5 as we continue to receive more submissions each year, many of which are 10-20 pages in length.
The HS/HSL staff works rigorously on the consent forms, as we strongly value patient advocacy and clear health communication. The service has increased the library's visibility on campus, facilitated new relationships with faculty, and given Information Services staff some of our more challenging projects. We've heard back from grateful researchers and received positive feedback from our satisfaction surveys. We have been asked to present on best practices for writing consent forms during a monthly research seminar sponsored by UMB's School of Nursing and plan to develop this presentation into a workshop and an article. Finally, we now have a presence on the Human Research Protections Program's website with a note that strongly encourages researchers to use this free service. We are confident that research subjects have benefited from our efforts.
---
October is Health Literacy Month and National Medical Librarians Month! This month we will feature profiles of health literacy advocates and medical librarians in the NNLM SEA region. There's still time to participate. If you have a story you'd like to share, please visit this post to learn how.
ABOUT SEA Currents
Email author Visit author's website View all posts by SEA Currents