National Medical Librarians Month Feature: A Day in the Life of Two Community Engagement & Health Literacy Librarians: Meet Terri Ottosen and Jane Morgan-Daniel
Posted by Tony Nguyen on October 2nd, 2018 Posted in: Advocacy, Funding, Outreach

---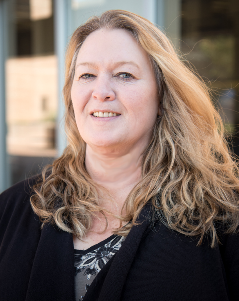 Terri Ottosen, MLIS, AHIP
Community Engagement and Health Literacy Librarian
Health Sciences Library
University of North Carolina, Chapel Hill
Since beginning my position as Community Engagement and Health Literacy Librarian last November, at the University of North Carolina at Chapel Hill Health Sciences Library, I've been exhilarated and energized by the response from the UNC community. I've been greatly impressed that many faculty, staff, and students are interested in health literacy, although I wasn't too surprised. As the nation's first public university, part of the mission is to enhance the quality of life for all people in the state, and naturally, health literacy skills can do just that. As someone passionate about patient empowerment, this has become my imperative, guiding me in my daily work life.
As most information professionals would attest, there isn't a typical day but a day could involve reviewing a patient education document from the Cancer Center or the Physical Therapy Department for plain language and reading grade level. I might also be helping to review a plain language summary for a journal submission or a clinical trial. If it's Monday, I'm probably listening to Your Health® Radio, the Department of Family Medicine's weekly health radio show, in order to provide links to the Research that Matters part of the show. On most days, I'm usually also preparing for a presentation or class, modifying content or emphasizing select concepts for the particular audience I will be talking to about health literacy. My new Interest Group, Librarians Advancing Health Literacy for the International Health Literacy Association, also requires an investment of time that pays off with a fantastic network of librarians who share ideas, concerns and resources that make us better at what we do.
One of the most ceaseless efforts I make on a daily basis is thinking about and overseeing the nchealthinfo.org website. I work with the Communications Manager, Linda Johnsen, to maintain and continually improve the original "Go Local" site in North Carolina. Linda and a team of volunteer librarians from around the state help to provide reliable and authoritative health information to the citizens of the state. Additionally, the Health Sciences Library is assuming responsibility for nchealthliteracy.org, a site focused on the research and practice of health literacy at UNC Chapel Hill. We will be modifying and improving the site to enable the promotion, collaboration and dissemination of health literacy practice and research for the University, the state, and beyond.
Also as any busy librarian will tell you, a lot of my time is spent in meetings, whether it's a short-term project or grant, or a standing meeting with a committee, or with my Research Assistant or colleagues. I've had the privilege of working with other like-minded people across the University, region and state, so I regularly meet with groups or individuals to discuss potential health literacy collaborations, whether it's other University Libraries, Public Libraries, or Community Organizations.
So, while there is no typical day for me, each day is very purposeful in promoting and supporting health literacy and rewarding, as a result.
*************************************************************************************

Jane Morgan-Daniel, MA, MLIS, AHIP
Community Engagement & Health Literacy Librarian
Health Science Center Libraries
University of Florida, Gainesville
Like Terri, I'm fairly new in my position as Community Engagement and Health Literacy Librarian, having joined the University of Florida Health Science Center Libraries (UF HSCL) in June 2017. I've also been fortunate to connect with many clinicians, educators, faculty, staff, and students who all share a passion for a common goal: reducing health disparities through improving the health literacy skills of healthcare consumers and providers.
In practice, my everyday work is extremely varied. As a functional liaison librarian, I collaborate with interdisciplinary partners across UF, UF Health, and local communities to provide health literacy-related information services, instruction, and research support. A typical day involves attending meetings for the Health Literacy Project Team, the Community Engagement Committee, the Alachua County Safety Net Collaborative, or the Partnership for Strong Families Neighborhood Resource Center Group. Associated requests for literature searches are common, in order to provide an evidence base for collaborative research initiatives that evolve from these meetings. Recent search topics include health literacy education interventions for inpatients to reduce readmissions, arts-based communication strategies to improve health behaviors, and competency tests for medical interpreters assisting patients with limited English proficiency.
My workdays often involve collaborative instruction with other UF HSCL librarians. Examples include guest lecturing in credit-bearing courses on topics such as common patient signs of limited health literacy, the importance of using plain language and Teach Back, and online resources for patient education. I also recently co-conducted two workshops, one for public library staff on authoritative and accessible health information websites to recommend to their patrons, and the other for a group of residents from a local retirement community on searching PubMed.
Seeking continuing professional development opportunities is another ongoing priority. For example, I recently joined Terri's newly established Interest Group for the International Health Literacy Association called Librarians Advancing Health Literacy. Additionally, this summer I hope to attend the Institute for Healthcare Advancement's 18th Annual Health Literacy Conference.
Other upcoming plans include tabling with UF HSCL's Nursing and Consumer Health Librarian at a community event called Night of Dance, co-creating a webinar that will be hosted by NEFLIN, grant-seeking for a potential UF HSCL project that would focus on creating patient education videos, and further developing UF HSCL's Health Literacy LibGuide.
As Terri expressed, there really is no typical day but whether I am researching, instructing, or collaborating on a health literacy project, I am working toward reducing health disparities by increasing health literacy and it is very fulfilling work.
October is Health Literacy Month and National Medical Librarians Month! This month we will feature profiles of health literacy advocates and medical librarians in the NNLM SEA region. There's still time to participate. If you have a story you'd like to share, please visit this post to learn how.
ABOUT Tony Nguyen
Email author View all posts by Tony Nguyen