National Medical Librarians Month Feature: Exhibits and Events: Reaching Your Campus and Community: Meet Beth Auten
Posted by SEA Currents on October 3rd, 2018 Posted in: Advocacy, Blog

---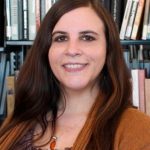 Beth Auten, MSLIS, MA, AHIP
Health & Human Services Librarian
J. Murrey Atkins Library
University of North Carolina, Charlotte
As we celebrate National Medical Librarians Month, it's a good time to think about ways to increase awareness of our profession and the many things we do, including outreach to our local communities, and marketing and promotion of all that we, and our libraries, have to offer. Many of you already know that NLM makes traveling exhibits—condensed versions of their exhibits intended for display at medical, university, and public libraries—available free of charge. This is a popular program, with booking periods filling up years in advance, but absolutely worth waiting for.
Our library recently hosted an exhibit focused on health care reform at the grassroots level, For All the People: A Century of Citizen Action in Health Care Reform. The NLM Exhibition Program provides a wealth of resources, including an online version of the exhibit, lesson plans for K-12 and higher education, images and text that can be used in promotional materials, and more. With so much already available, a small team at your library can plan events to coincide with the exhibition, and promote it to your campus and community.
The timing of the exhibit was a challenge for us—we were able to book it within the year, by taking a booking period that opened up, but it was right at the beginning of a new fall semester. Even with the exhibit on display in August, just as classes began and the faculty and students returned to campus, we were able to schedule events with on-campus experts and advocates for health care reform. The events included a presentation on using data science in community health projects; a film screening; and a panel discussion with several physicians, a health studies professor, and a journalist who has written extensively on health topics. Some faculty members gave their students credit for attending events and reporting back on what they learned.
While you are waiting to book an NLM traveling exhibit, or waiting on one to arrive, you could plan an exhibit showcasing local materials and collections. (This is also an opportunity to supplement the content of the traveling exhibit, if you have related material in your collection.) This past April, I worked with a faculty member in public policy and consulted our Department of Public Health Sciences to put together an exhibit on local public health history to coincide with National Public Health Week.
Initially, we weren't sure what resources might be available to us, but found that our library's Special Collections & University Archives department has the records of the local health department from its beginnings in the early Twentieth century through the 1970s, when its authority was transferred to the county government. There was a wealth of information in those records, and other local historical collections, about public health crises including the 1918 influenza pandemic and polio epidemics in the 1940s; development of sanitation and environmental health policies; and the work of physicians, nurses, and other health workers in schools and community clinics.
Beyond the campus community, exhibits and events are a great way to welcome the wider community into your library. If your library does any community outreach, or offers consumer health information services, exhibits and related events can provide space and opportunities to promote those services. Take a look at the NLM Exhibition Program website to see what topics might be of interest to your organization and community, and get ideas for events and resources that tie in with the exhibit topics and themes.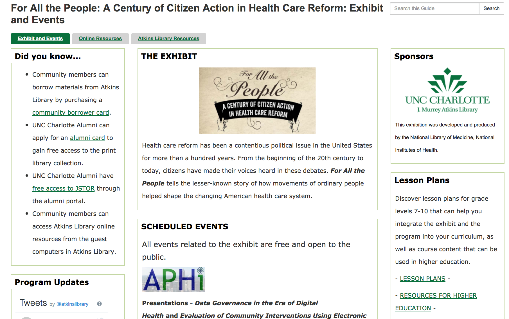 Our exhibit guide, featuring information about the exhibit and events, included information for community members as well as resources available to university faculty, staff, and students:
For All the People Exhibit Guide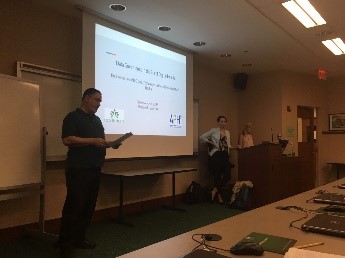 Reese Manceaux, Research Data Librarian at J. Murrey Atkins Library, introducing speakers from the Academy for Population Health Innovation (APHI) at UNC Charlotte.
They gave a talk on data science and digital health that coincided with the NLM traveling exhibit For All The People: A Century of Citizen Action in Health Care Reform.
---
October is Health Literacy Month and National Medical Librarians Month! This month we will feature profiles of health literacy advocates and medical librarians in the NNLM SEA region. There's still time to participate. If you have a story you'd like to share, please visit this post to learn how.
ABOUT SEA Currents
Email author Visit author's website View all posts by SEA Currents