National Medical Librarians Month Feature: Meet Dr. Cynthia Baur, Director, Horowitz Center for Health Literacy, School of Public Health, University of Maryland, College Park
Posted by SEA Currents on October 12th, 2018 Posted in: Advocacy

---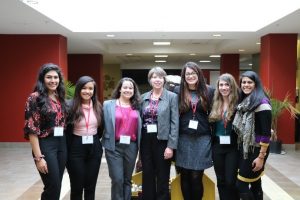 Dr. Cynthia Baur (center) and the Center for Health Literacy student team at
the spring 2018 Health Literacy Huddle, UMD School of Public Health
Interview by Mary Ann Williams, MSLS
Research, Education & Outreach Librarian
School of Dentistry Librarian
University of Maryland, Baltimore
Health Sciences & Human Services Library
"Librarians and libraries are essential to developing health literate societies."
 1) Please tell us about the Herschel S. Horowitz Center for Health Literacy and what you strive to accomplish there.
 I am the Director of the Herschel S. Horowitz Center for Health Literacy, School of Public Health, University of Maryland, College Park. We aim to educate people about limited health literacy and how and why it affects healthcare and public health outcomes. We research many different aspects of limited health literacy and look for practical solutions at different levels from increasing individual knowledge and health-promoting actions to healthcare system performance that puts patients and caregivers at the center of care processes. We also work on guidelines and policies that can influence how people find, communicate about, and use health information and services.
2) What inspired you to pursue the work you do today?
My personal experiences as a new mother 23 years ago inspired me to work on health communication and health literacy issues. I was overwhelmed and confused by the information I was getting from the healthcare system, and I thought it would be a worthy purpose to try to make all types of health information and services easier to understand and use. I expected it would be a short-term project and then I would move on and work on other problems! Obviously, I didn't know or anticipate the many obstacles – educational, cultural, institutional, financial, political, and more – to clearly communicating about health.
3) If you only had one Health Literacy tool to use, what would it be?
My pick is the CDC Clear Communication Index because I was one of the co-creators while working at the federal Centers for Disease Control and Prevention (CDC) in Atlanta, GA. My colleague Dr. Christine Prue (a Terp alum) and I identified the need for science-based criteria about how to clearly communicate public health information and recommendations. She and I led a team to develop and test the Index. It has proved to be a remarkably flexible tool for improving the presentation of many types of information, not only health.
4) What role(s) can you see libraries/librarians (medical or public) taking to support health literacy initiatives?
 I think librarians and libraries are essential to developing health literate societies. We included libraries as key partners in the National Action Plan to Improve Health Literacy (2010) because they are information hubs for all types of communities: urban, rural, large or small. Librarians are passionate about getting reliable information in people's hands, and we need more people committed to finding and using the highest quality information in decision-making. I use the public library in my neighborhood, and I am impressed by the many ways libraries now make information available to a wide range of users. I'm also impressed that librarians are embracing their role as health information providers and can get a Consumer Health Information Specialization from the Medical Library Association.
ABOUT SEA Currents
Email author Visit author's website View all posts by SEA Currents