NMLM Feature: Paws to Read @ the Johns Hopkins All Children's Hospital – Family Resource Center Library
Posted by SEA Currents on October 26th, 2018 Posted in: Advocacy, Blog

---
Mary Katherine Haver, MLIS, AHIP-Distinguished
Medical Librarian
Family Resource Center Library
Johns Hopkins All Children's Hospital – St. Petersburg, Florida
Ellen McVay
Public Relations Specialist
Johns Hopkins All Children's Hospital
Jenn Thai
Social Media Specialist
Johns Hopkins All Children's Hospital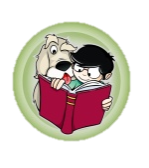 Animal-assisted therapy can significantly reduce pain, anxiety, depression and fatigue in people with a range of health problems. For Johns Hopkins All Children's Hospital (JHACH) patients and their families, the third Monday of the month is a 'Pawsitive' Day!  On this day, patients and/or their siblings can share a tale or two with a friendly canine during "Paws to Read" at the Family Resource Center (FRC) Library. Each child selects a story to read aloud to one of the Child Life Pet Therapy dogs. These individualized sessions help children enjoy reading "for the fun of it" while strengthening their self-confidence, fluency, and comprehension skills.
This program provides a respite for parents and caregivers too. While their children are reading to a pet therapy dog, caregivers can ask Mary-Kate Haver, the FRC Medical Librarian, health information questions regarding information about their child's health and learn about other library resources and services available for them.
Please watch this "Paws to Read" video created by Ellen McVay, JHACH Public Relations Specialist, with text incorporated by Jenn Thai, JHACH Social Media Specialist.
If you would like more information about this literacy program, please contact Mary-Kate Haver at mhaver1@jhmi.edu
ABOUT SEA Currents
Email author Visit author's website View all posts by SEA Currents