NMLM Feature: Meet Rachel F. Fenske, MLS, Outreach Librarian Creating PATHS for Health Literacy
Posted by SEA Currents on October 30th, 2018 Posted in: Advocacy

---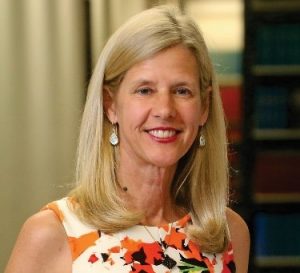 Rachel Fenske, MLS
Charles M. Baugh Biomedical Library Outreach Librarian
University of South Alabama
Mobile, AL
"Helping patients and parents find quality information on all types of health issues and putting their minds at ease is what makes my job so rewarding and fulfilling."
Imagine a parent whose child was running and playing one day, then suddenly out of nowhere, the child receives a diagnosis of a rare genetic disease. Not knowing what to expect, fear mounts. As the health care team begins to treat the child, large binders of information are given to the parents so they can become familiar with the condition as well as all the medical treatments and procedures involved. The documents are written in medical jargon and extremely difficult to read and understand, to the point where a medical dictionary and encyclopedia are needed to decipher what it all means. Parents become so overwhelmed that they stop reading the material because it is just too daunting!
This is where my job comes into play. As the Information Services/Outreach Librarian at the University of South Alabama (USA) Charles M. Baugh Biomedical Library, I am able to break down the barrier of incomprehensible information so that parents and patients alike can understand. Funding provided by a NNLM SEA Technology Improvement Award enabled me to purchase Android tablet computers for a new patient education program at the USA Children's & Women's Hospital in Mobile, Alabama. The project, entitled PATHS (Patient/Parent Access To Health Sources) Leading To Improved Health Outcomes, enables me to introduce parents and families to MedlinePlus, Genetics Home Reference, Genetic and Rare Diseases Information Center and many other resources from the National Library of Medicine (NLM) and National Institutes of Health (NIH) so that the complicated nature of the disease can be understood from sources that are written for the consumer. Sitting by their side in the hospital, I help them search for information from sources they never knew existed, providing current, reliable and authoritative information without all the medical jargon. I have been able to provide one-on-one sessions with parents while they sit and wait for hours as their child receives infusion treatments. This location and timing provides a perfect opportunity to educate parents on the rich NLM resources available at a time when they can mentally absorb the material. Many of the conditions and diseases are extremely rare and the resources from Genetics Home Reference and Genetic and Rare Diseases Information Center have been invaluable in providing information on the disease as well as key organizations from which they can gain support. Information on the gene, frequency of symptoms associated with the disease and genetic testing resources are just a few pieces of information parents can find. This wealth of information is invaluable to the parent as they learn what to expect and in turn can ask their health care team more focused questions.  Applying this knowledge to their specific condition is key to health literacy.
Parents are pleased with the ease of use, depth of information and most importantly, the readability of the information. Being able to use the resources while at the hospital on tablet computers at the time of diagnosis and during treatments has provided an opportunity for multidisciplinary learning and excellent patient education interventions. The ability to access these resources freely at home is another advantage for the families. Complex genetic conditions are understood in a language they can read and share with other family members.
This project has made a great impact on health literacy in our community. Helping patients and parents find quality information on all types of health issues and putting their minds at ease is what makes my job so rewarding and fulfilling. When a father of a child who has had multiple rare conditions for over 5 years looks to me after the education session and tells me that it is the first time he found information he could read and understand warms my heart and makes my work all worthwhile! Thanks NLM and NIH for all the wonderful resources you provide!!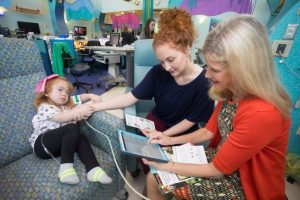 Rachel Fenske, USA Biomedical Library Outreach Librarian, providing education to a parent at
the USA Children's & Women's Hospital USS HOPE Unit on the use of NLM resources.
ABOUT SEA Currents
Email author Visit author's website View all posts by SEA Currents