Florence Nightingale and the Data Visualization Society
Posted by elizabethwaltman on July 24th, 2019 Posted in: Data Science

---
Written By: Kiri Burcat, Data & Evaluation Coordinator, NNLM SEA
Here at the University of Maryland, Baltimore, the Health Sciences and Human Services Library is physically connected to the School of Nursing. The building's façade is engraved with the last names of some of the nursing profession's pioneers: Dorothea Dix; Clara Barton; Mary Eliza Mahoney; Florence Nightingale. I see them every day as I walk between my car and the library.

University of Maryland, Baltimore School of Nursing, from nursingonpoint.com
Florence Nightingale is famous for her accomplishments in professionalizing nursing roles during the Victorian Era. She organized care for soldiers during the Crimean war, advocated for sanitary conditions in battlefield hospitals, and established a nursing school at St Thomas' Hospital in London. Still today, new nurses take the Nightingale Pledge at their pinning ceremonies and the Florence Nightingale Medal is awarded internationally to nurses of the highest distinction.
But I learned about her from a data visualization course.
A prolific writer, Nightingale effectively used charts and infographics to communicate medical information. One of her best-known visualizations, called the coxcomb, illustrates the fact that far more soldiers were dying from preventable contagious diseases than from battle wounds: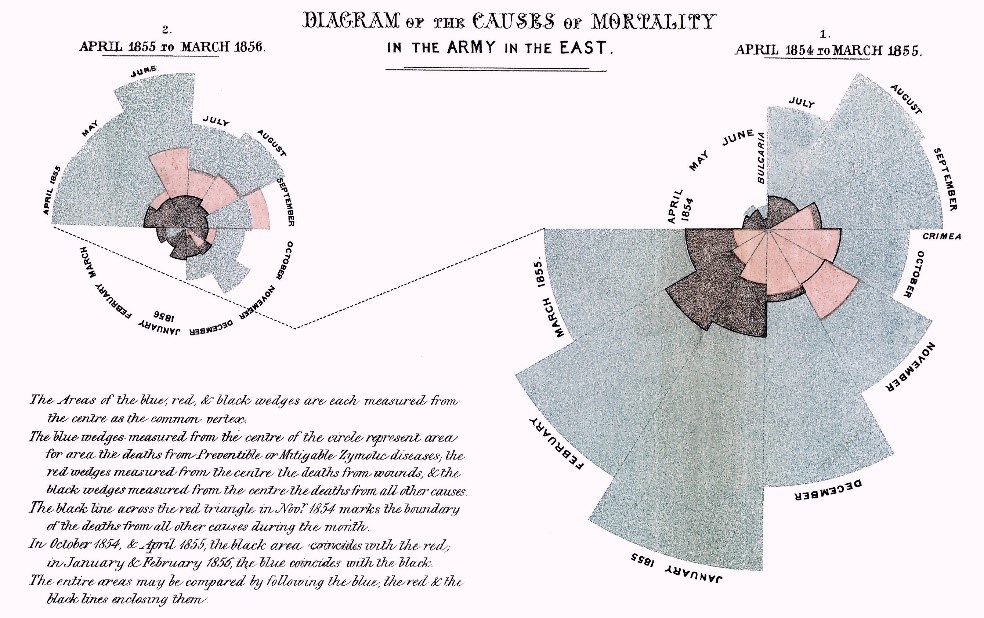 Florence Nightingale, from Wikimedia commons. The first part of the description reads: "The areas of blue, red, and black wedges are each measured from the centre as a common vertex. The blue wedges measured from the centre of the circle represent area for area the deaths from Preventable or Mitigatable Zymotic diseases, the red wedges measured from the centre the deaths from wounds, and the black wedges measure from the centre the deaths from all other causes.
For this, she's also lauded as one of the pioneers of data visualization.
On July 15th, the Data Visualization Society introduced their new online publication, Nightingale, named in her honor. The Society, itself a new community, was formed "to collect and establish best practices, fostering a community that supports members as they grow and develop data visualization skills" and Nightingale will publish stories covering data viz techniques, design processes, and applications in a variety of fields.
Interested in experimenting with data visualization while earning CE credits?
Tune in to the August installment of the NNLM Research Data Management Webinar Series:  What's in a Data Story? Understanding the Basics of Data Storytelling and keep an eye on the training calendar for an instance of Cool Creative Communications: Dazzling Data Visualization later this fall.
ABOUT elizabethwaltman
Email author View all posts by elizabethwaltman