Get Ready: Hurricane Dorian
Posted by Tony Nguyen on August 28th, 2019 Posted in: Emergency Preparedness and Response

---
UPDATE: September 06,2019
Hurricane Dorian is lashing North Carolina and southeast Virginia with torrential rain, storm surge flooding, high winds and tornadoes and is headed for a brush of southeast New England tonight before slamming into Atlantic Canada this weekend.
Dorian's maximum sustained winds have diminished, making it a Category 1 hurricane. Regardless of the intensity change, the hurricane's flooding impacts will likely be similar.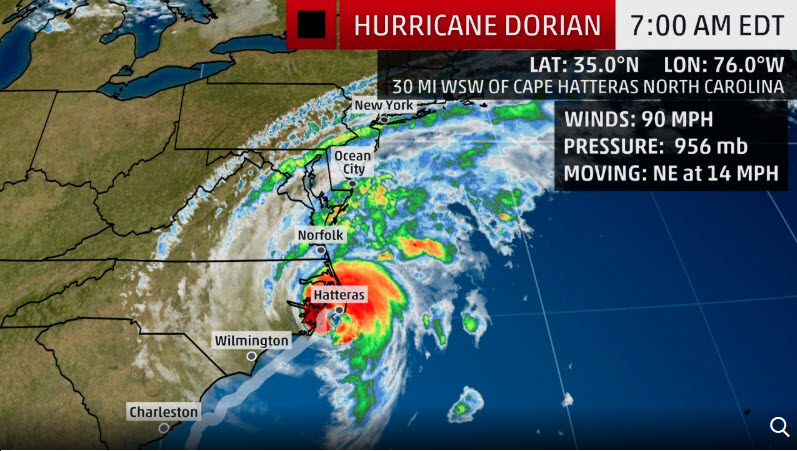 At a Glance (Updated 09/06/2019)
Dorian's center is currently hugging the coast of North Carolina.
Dorian's rain, wind and storm surge are lashing the Carolinas.
Hurricane and storm surge warnings are posted along the North Carolina coast.
A tropical storm warning has now been issued for parts of southeast Massachusetts.
Dorian could strike Atlantic Canada as a hurricane this weekend.
Hurricane watches have been issued for parts of Canada.
Update September 05, 2019
Update 09-04-2019
Georgia State Parks Map: indicates parks that may be closed or without power and those that are open and accepting evacuees.
Governor Northam, Virginia,  Declares State of Emergency in Advance of Hurricane Dorian
U.S. Veterans Administration
Centers for Medicare & Medicaid Services (CMS) offers comprehensive support for Georgia and South Carolina with Hurricane Dorian preparation
AABB: Public Urged to Donate Blood in Advance of Hurricane Dorian Making Landfall
Airbnb Open Homes Program
FEMA Crowdsourcing Unit: Map Journal incorporates various crowdsourcing efforts for Hurricane Dorian including Healthcare Ready Open Pharmacies, Gas Buddy Fuel, and others not mentioned in our updates
Update 09-03-2019
Update 08/30/2019
FEMA Emergency Declarations:
Crowdsource
Update 08/29/2019
NOTE for DOCLINE Members: If your library will be closed due to the hurricane, please set your library "out of office" to temporarily deactivate lending in DOCLINE. If your library has never set your "out of office" before, please visit the NNLM DOCLINE website to learn how. Doing so will prevent requests from routing to your library during times of extended absence or special circumstances.
We encourage you to visit the following pages from the NLM Disaster Information Management Research Center (DIMRC). You can embed the content from both of these pages on your own Website by accessing the Health and Human Services (HHS) Content Syndication Storefront. When we update any of these pages, your pages will be automatically updated as well.
State and Territory Resources
Visit the NNLM SEA Page for additional Federal and State Emergency Management Contact Resources.
Florida
Georgia
North Carolina
South Carolina
Puerto Rico
U.S. Virgin Islands
Dominican Republic
NLM Disaster Information Management Resource Center (DIMRC)
MedlinePlus
Federal Agency Resources
Agencies and Organizations
Healthcare Ready RX Open is activated for Puerto Rico, the US Virgin Islands, and Florida beginning Wednesday, 8/28.
Humanity Road Situation Reports (has not released a situation report yet, but they are active on Twitter)
Social Media
Social Media Hashtags
ABOUT Tony Nguyen
Email author View all posts by Tony Nguyen