Funding Spotlight: Exhibiting at the Area Agency on Aging Senior Lifestyles Expo
Posted by elizabethwaltman on November 12th, 2019 Posted in: All of Us, Funding

---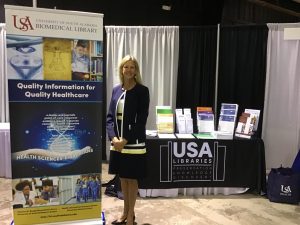 Written By: Rachel F. Fenske, Information Services/Outreach Librarian, USA Charles M. Baugh Biomedical Library 
The University of South Alabama Charles M. Baugh Biomedical Library provided a wealth of health information to the senior citizens of the Mobile, AL community at the annual Area Agency on Aging Senior Lifestyles Expo. The exhibit, held at the Greater Gulf States Fairgrounds on October 3, 2019, was bustling with approximately 1100 senior citizens from the community, including many veterans. This annual event brings resources that provide services to the senior community in one of the largest venues in the area. Receiving an All of Us Exhibitor Award through NNLM SEA, I was able to bring awareness of the All of Us Research Program to my community, as well as the vast array of health information from the National Library of Medicine and National Institutes of Health.  Our booth, located in a large corner of the exhibit hall, drew hundreds to our area. This year's theme, "We are Local—Connect, Create, Contribute", was a perfect way to introduce the All of Us Research Program and connect with the senior community to promote better health outcomes.
Demonstrations in the use of MedlinePlus and other NLM resources were provided using an Ipad as participants were strolling through the exhibit. There were 16 demonstrations reaching 34 people with 198 people registering for a prize drawing. Over 500 people visited our booth. Many questions were asked about various health conditions and having the ability to distribute current, quality information in the form of bookmarks, brochures, and pamphlets on conditions that are prevalent in my community was extremely helpful. The participants were very eager to learn about MedlinePlus as many were not aware of the free consumer friendly health resource.
The exhibit won 1st prize in the education category among 57 vendors present. I was very pleased at the energetic and inquisitive reception we received, as this event reaches a population where health needs are the greatest. Being involved in this exhibit enabled me to provided extensive quality health resources and proved to be a very engaging and productive method of outreach services that reached a large number of senior citizens at a single given time.
Participation at the exhibit also allowed me to network with many local agencies that assist the senior community. Providing information on the types of outreach services I can offer extends my outreach in the form of future health workshops for my community. It is always fun to be an exhibitor at this event and I was very grateful to receive NNLM SEA funding to promote the All of Us Research Program and the myriad of free resources through the National Library of Medicine and National Institutes of Health. My community has become better informed with easy to use, current, and quality health resources that enables them to live a healthier more productive lifestyle.
ABOUT elizabethwaltman
Email author View all posts by elizabethwaltman