Puerto Rico Hit by 5.8 and 6.4 Magnitude Earthquakes
Posted by elizabethwaltman on January 6th, 2020 Posted in: Blog, Emergency Preparedness and Response

---
Updated January 21, 2020
The U.S. Geological Survey has reported two earthquakes off the southwest coast of Puerto Rico. After a 5.8 magnitude earthquake on Monday morning (January 6) at 6:32 am, a 6.4 magnitude quake struck at 4:24 Tuesday morning (January 7).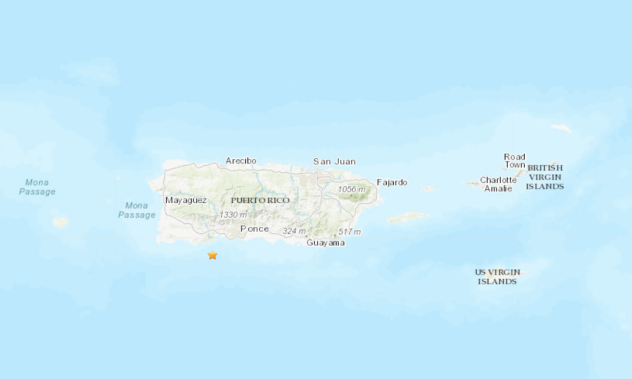 At a Glance
The quake Tuesday morning, January 7, has triggered an island wide power outage due to damage at one of the main power plants. Power is expected to be restored later on Tuesday.
Damage reports have included collapsed buildings, cracked and raised roadways, and small landslides.

There is

no tsunami threat

to Puerto Rico or the Virgin Islands.

The island has experienced an increase in seismic activity since December 28, with a number of quakes ranging from 4.7 to 5.1 in magnitude. 

January 8, 2020: HHS Secretary Azar Declares Public Health Emergency for Puerto Rico Following Earthquakes
January 8, 2020: Waiver of Modification of Requirements Under Section 1135 of the Social Security Act in the Commonwealth of Puerto Rico as a Result of the Consequences of Earthquakes

1135 Waivers – The HHS Secretary may waive or modify certain Medicare, Medicaid, Children's Health Insurance Program (CHIP) and Health Insurance Portability and Accountability Act (HIPAA) requirements as necessary to ensure to the maximum extent feasible that, in an emergency area during an emergency period, sufficient health care items and services are available to meet the needs of individuals enrolled in Social Security Act (SSA) programs and that providers of such services in good faith who are unable to comply with certain statutory requirements are reimbursed and exempted from sanctions for noncompliance other than fraud or abuse.
State and Territory Resources
Visit the NNLM SEA Page for additional Federal and State Emergency Management Contact Resources.
Puerto Rico
NLM Disaster Information Management Resource Center (DIMRC)
We encourage you to visit the following pages from the NLM Disaster Information Management Research Center (DIMRC). You can embed the content from both of these pages on your own Website by accessing the Health and Human Services (HHS) Content Syndication Storefront. When we update any of these pages, your pages will be automatically updated as well.
MedlinePlus
NNLM SEA Resources
Update: January 9, 2020
Update: January 10, 2020
FCC Communications Status Report for Areas Impacted by Puerto Rico Earthquakes January 8, 2020 (English and Spanish )
USGS Puerto Rico Earthquake Situation Report #1
U.S. HHS Office of Civil Rights (OCR) Issues Guidance to Help Ensure Equal Access to Emergency Services and the Appropriate Sharing of Medical Information Following Puerto Rico Earthquakes
Update: January 14, 2020
Centers for Medicare & Medicaid Services (CMS) offers widespread support for Puerto Rico amid Earthquakes
Update: January 16, 2020
Update: January 21, 2020
Hashtags:
#PRStrong
#PR
#PuertoRicoEarthquake
#PuertoRico
#RDClaro
#Terremoto
ABOUT elizabethwaltman
Email author View all posts by elizabethwaltman