Technology Funding Spotlight: … Because there is so much more than Google!
Posted by elizabethwaltman on April 30th, 2020 Posted in: Funding, Health Literacy, Technology

---
Guest Post By: Mary Pat Gage, Medical Librarian, Baptist Health South Florida
The Patient/Family Resource Center & Medical Library in the Baptist Health South Florida Miami Cancer Institute (MCI) is centrally located on the second floor and is part of a beautiful research and multi-disciplinary care outpatient facility. In addition to providing library services to our clinical staff, we invite patients and their families to use the library to request librarian-mediated searches, browse consumer health materials, use a computer, or simply enjoy a quiet place to wait between appointments.
The MCI Social Work Case Managers use the library for support group programming, and expressed interest in also offering consumer health library instruction. At the time, however, there was a major limitation: the library had a wall-mounted 60" television, but no AV equipment to present course materials on. We therefore applied for a technology grant to cover the costs of a minicomputer and wireless mouse/keyboard that, when connected to the television, would convert it to a monitor. We were delighted and appreciative to be awarded the grant, and as a result, now have the training infrastructure we need.
The plan was to hold 15 minute sessions as part of monthly support group meetings for 1 year, and in September 2019, we held the first session. It was attended by 10 patients/family members and I used a short PowerPoint presentation followed by a live demonstration about using the BHSF library page to find authoritative resources. Particular attention was placed on MedlinePLUS, the National Cancer Institute, and Clinical Trials.gov. This group was very interested in clinical trials information and took away MEDLINE Plus bookmarks.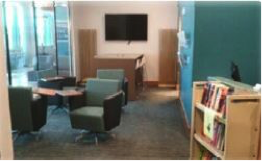 While feedback from the social workers was positive, in February 2020, the support group facilitators reported that the consumer health instruction took too much time away from meeting the immediate needs of the patients and caregivers during their scheduled group appointments, and asked to put the program on hold.
We now use the equipment for digital signage filled with rotating images of library locations and services, NLM resources, databases, and event photos. Fortunately, the display is easily viewed from both inside and outside the library (thanks to a clear glass exterior wall). While the original requestors put the program on hold, we have been asked about scheduling in-library training with our nurse educators. Unfortunately, COVID-19 has delayed these efforts for now, but we plan to resume them upon our return, and appreciate having the equipment to provide it!
ABOUT elizabethwaltman
Email author View all posts by elizabethwaltman