Get Ready: Hurricane Isaias
Posted by elizabethwaltman on July 30th, 2020 Posted in: Emergency Preparedness and Response

---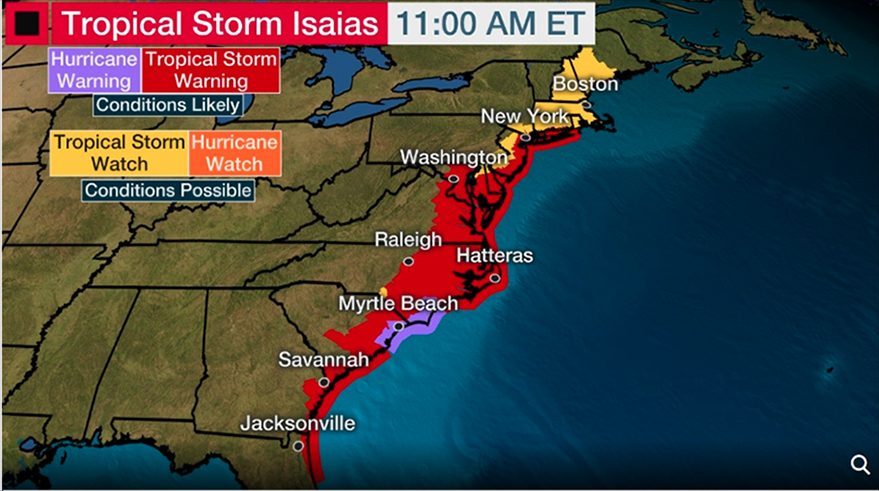 UPDATE: August 3, 2020
A hurricane warning has been issued for a portion of the upper South Carolina and lower North Carolina coasts since Isaias is forecast to make landfall as a Category 1 hurricane tonight. The hurricane warning includes Myrtle Beach, South Carolina, and Wilmington, North Carolina.
UPDATE: July 31, 2020
Tropical Storm Isaias was upgraded to a Category 1 hurricane, shortly after pulling away from Hispaniola. The storm is expected to make landfall along the Eastern seaboard of the United States this weekend to early next week.
---
UPDATE: July 20, 2020
Tropical Storm Isaias is bringing bands of heavy rain to Puerto Rico and the Virgin Islands, with winds in those rainbands gusting at 50 mph or higher at times.
The heavy rain has triggered serious flash flooding in several areas of Puerto Rico. Multiple fallen trees, mudslides and flooding was reported in southwest Puerto Rico, according to local emergency management. River flooding has been recorded by USGS gauges in several locations in Puerto Rico.
At a Glance
Tropical Storm Isaias is bringing heavy rain to parts of the Caribbean, including Puerto Rico.

Tropical storm warnings and watches are posted from Puerto Rico and the Virgin Islands.

First impacts could be felt in parts of Florida as soon as Saturday.

Other parts of the U.S. East Coast could also eventually see impacts from Isaias next week.
State and Territory Resources
Visit the NNLM SEA Page for additional Federal and State Emergency Management Contact Resources.
Puerto Rico
U.S. Virgin Islands
NLM Disaster Information Management Resource Center (DIMRC)
We encourage you to visit the following pages from the NLM Disaster Information Management Research Center (DIMRC). You can embed the content from both of these pages on your own Website by accessing the Health and Human Services (HHS) Content Syndication Storefront. When we update any of these pages, your pages will be automatically updated as well.
MedlinePlus
Reliable Resources for Tornado Preparedness & Response
Mobile Apps
NNLM SEA Resources
ABOUT elizabethwaltman
Email author View all posts by elizabethwaltman