Scholarship Recipients Reflect on the Association of Bookmobile and Outreach Services Conference
Posted by elizabethwaltman on February 1st, 2021 Posted in: All of Us, Outreach, Public Libraries

---
In October 2020, NNLM financially supported 20 library staff across the country to attend the 15th annual Association of Bookmobile and Outreach Services (ABOS) conference. Originally slated for Dallas, TX, the conference was retooled as a virtual event due to Covid-19. Most attendees agreed that there were actually benefits to the online format. NNLM All of Us presented at the conference and continues to work with ABOS on health outreach initiatives. Here, 3 Southeastern/Atlantic Region scholarship recipients outline favorite moments, and what they took away from the ABOS conference.
——–
Nicole Klein, Community Engagement Librarian at Cobb County Public Library System (GA)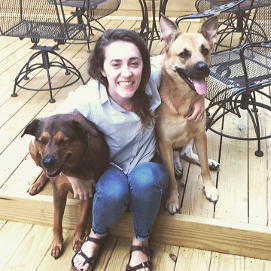 I'm still fairly new to working exclusively in Outreach—I've been in my current position just shy of a year—so this was my first time attending an ABOS conference. I was blown away by how interactive the folks attending the ABOS conference made it for themselves. The virtual format definitely made for a "make what you will out of it" experience this year and I was impressed to see how available and engaged attendees made themselves. As my supervisor has said, the folks that work in Outreach reach are a different breed of librarian and that was very evident to me, and wholly appreciated; it felt like discovering my people. We are looking at procuring a book bike at our library system and Ian Gosse's presentation, "The Paperback Rider: The Five-Year Evolution of a Book Bike Service" was INVALUABLE.
Marlan Brinkley, Library Director of the McDowell County Public Library System (NC)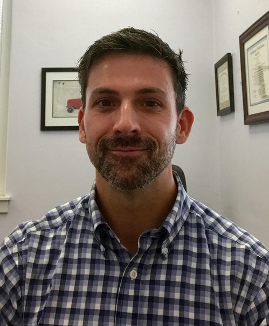 I had a great time attending the ABOS Conference this year.  Normally traveling costs prevent me from going to events like these, so I was glad for the opportunity to attend digitally. Recorded sessions were especially helpful, particularly when I wanted to attend two or more sessions all occurring at the same time. The videos have also been a great resource for when I needed to replay them and catch a product or vendor name I missed the first time.
One of my favorite sessions was Outreach Start Up provided by Beth Brown from the Muskingum County Library System. I was looking forward to it because my library system was finally at a point where we dedicate programs and services toward outreach. While we had successfully done some outreach in the community, I was wanting to hear from someone who created an outreach department practically from scratch. What worked well? What didn't? We're a small rural library system, so I was hoping to hear outreach tips that could be scalable to us. Fortunately, Ms. Brown provided great advice and a general outline of what we should consider as we grow our outreach department.
Here are the items I felt were particularly noteworthy:
The value of information gathering. What services are being offered where? Where are the gaps? What are our community partners (ex. Friends groups) doing?
Tip: imagine the policies you're starting with are a blueprint- they'll be adjusted to suit the needs of your community.
As we consider what policies we should implement, look at policies from other libraries as inspiration.
The ABOS listserv is a dependable resource for advice (which we already knew!).
We were introduced to Bed Bug Bags as a resource. I had no idea this was even a thing.
The value of keeping communication open between the homebound delivery recipients. I especially admired their efforts by writing letters to their patrons during Covid-19 closures.
As we look for opportunities to establish connections in the community, include public events such as festivals, parades, farmer's markets. Bring a collection that matches the theme (ex. cooking, farming, and produce books for the farmer's market).
Consider rebranding some services. Ex. was "homebound", now called "house call."
Finally, be an active member of the community by joining local groups and organizations.
Heather Ogilvie, Outreach Librarian, Bay County Public Library (FL)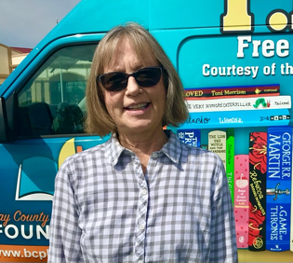 ABOS 2020 Virtual Conference: Outdoing Outreach was AWESOME. ABOS as an organization is a dynamic work group, and a brain trust, but most of all, ABOS is a community where everyone belongs.
[At the orientation] I found at the last minute, that, while I had been using the super-cool Whova App for days to learn about workshops, agendas, attendees, and contests, I didn't know how to get into the actual conference! Turns out I was not alone. We were all wandering around in cyberspace. But within moments everyone began to appear in the ZOOM conference room.
Throughout the day, there were bookmobile videos from other libraries, showcasing their work. That was super interesting. Most bookmobiles on display are currently operating on curbside pickup only. The larger bookmobiles are staying home now, and the vans, cars, and bicycles are on the move.
All the sponsors made personal presentations. Ordinarily, I feel uncomfortable among the vendors… but in this environment, we were discussing products, services, and innovations, rather than what I could purchase. It was just interesting and not stressful!
This was my Ice Breaker for day one: I am currently teaching a class called Conversations that Matter: Tough Topics With Total Strangers. I think we can strengthen community resilience by increasing critical thinking and expanding our ability to find common ground.
I had discussion on this topic throughout the conference. So many libraries are interested in community conversations, deliberative dialogue, and other techniques, and were eager to learn how to get started.
Some of Heather's favorite presentations included:
A session about a library that provides programming through outdoor activities.
A rural library's work with connecting with patrons with dementia.
The Paperback Rider, a session about a book bike, and the librarian that provides services by riding the bike out into the community with giveaways and craft ideas.
Libraries Without Borders talking about their Wash and Learn initiative that reimagines what a library can by bringing popup library programming to laundromats.
ABOUT elizabethwaltman
Email author View all posts by elizabethwaltman