"Graphic Medicine: Ill-Conceived & Well-Drawn" traveling exhibit coming from the NLM to the UW Health Sciences Library!
Posted by Ann Glusker on November 5th, 2018 Posted in: Health Literacy, K-12, News from NLM, Training & Education
Tags: comics and medicine, david lasky, ellen forney, graphic medicine, traveling exhibit, university of washington health sciences library
---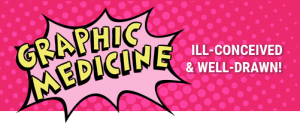 As you may know, the University of Washington Health Sciences Library (HSL) is the location of the Pacific Northwest region of the NNLM.  Starting today (through December 22), it will also be hosting the National Library of Medicine traveling exhibit titled, "Graphic Medicine: Ill-Conceived & Well-Drawn".  We are so excited to present this vibrant and trend-setting event! Graphic medicine uses the graphic novel or comic format as a way to provide information and tell stories of illness and health; this exhibit (curated by graphic artist Ellen Forney) consists of 6 banners which will be displayed in the library.  In addition, we will host artist David Lasky for a talk on his work (which includes the art work for the comic series "Pandemic in Seattle") and a drop-in comics workshop, in the HSL Pacific Room on November 14 from 1:00 – 4:00. 
Can't make it to Seattle to see the exhibit in person?  There are some great online instruction materials using the exhibit: one on mental health for grades 7-10, and one for college-level and adult audiences. There's even an online exhibit collection to peruse!  Last but not least, the exhibition is booked through 2022– check here to see if it may be coming to a city near you! 
ABOUT Ann Glusker
Email author View all posts by Ann Glusker