How I came to be the Biosleuth
Posted by Carolyn Martin on October 30th, 2017 Posted in: News from Network Members
Tags: Medical Librarians Month
---
To celebrate Medical Librarian's Month we have invited medical librarians in our region to submit some information about who they are and the work that they do as medical librarians.
Today we are concluding our series with a post from an independent medical librarian in Washington! 
Who am I? Julia Parker, M.S., M.L.I.S
Where do I work? Biosleuth Consulting Services, LLC
Unlike many of my colleagues, I work as an Independent Medical Librarian . . . a liaison to people of diverse information needs, not necessarily local to WA. I am the principal of Biosleuth Consulting Services, LLC. I work out of my home a great deal of the time . . . or am one of those people you see working on their laptops in local coffee shops.
How I came to be the Biosleuth
I never intended to become a librarian, though I have loved to read and sit in libraries since grade school. Although my professional journey has been quite circuitous, the road traveled has provided me the experience base for all I am asked to do as a consultant. I started undergrad with the intention of becoming a Veterinarian, and by the time I graduated, I decided I wanted to be a researcher. I worked in labs for a while and then returned to Grad school. My career path veered between the time I obtained an M.S. and was pursuing a Ph.D. in Pathobiology. I decided what I really wanted to do was spend my time searching for critical medical and scientific information. That's when I applied to the UW's program for my M.L.I.S.  I gained practical experience, while in school, by volunteering in 2 medical libraries, doing an internship at the local public library, enhancing subject headings in the in-house catalog at a local biotech as my student project and working part-time on UW's HealthLinks. Once armed with my new tools, I was so fortunate that a small biotech hired me to run their corporate library. I became active in SLA, and WMLA and have served on committees and boards for both organizations ever since. What I was unprepared for has been the volatile nature not only of the biotech scene in Seattle, but for libraries, as well. Three lay-offs later, I decided to launch my business as an independent.
Over the past 8 years, I have continued expanding my network; I'm a staunch believer in LinkedIn. AIIP (Association of Independent Information Professionals) helps promote my business through their online member directory, provides me access to critical search tools, such as STN and Dialog (at a discounted rate) and has monthly webinars given by other members or vendors. In fact, the example set by a couple AIIP'ers is what originally inspired me to go independent. I count my large network of professional colleagues and peers one of my very best assets.
The majority of my projects are reviews of the published literature (medical, scientific and/or patents) on a specific topic for large corporate entities – either as part of due diligence for marketed products or when considering a new direction. I might be asked to digest and summarize the research, then present the significance of the work to executives and marketing directors. In 2014, I was approached by a friend who had a recent medical diagnosis she was finally beginning to deal with, both physically and emotionally. I agreed to co-author a book, which we published two years later entitled, Beyond Embarrassment : Reclaiming Your Life with Neurogenic Bladder and Bowel. I learned a lot along the way, including what it takes to bring a book to print and I continue working with my friend on her blog, TrudyTriumph. The blog gives us a chance to educate and encourage those living with continence health issues – a community to which patients can turn, when they want to talk to others who have similar experiences.
I'm back in a Library!
This past year I was hired to help set up a new Business Library for the non-profit organization, Life Science Washington, which provides resources and networking opportunities for Washington state biotechnology and medical device companies. I provide monthly consulting appointments to help these small-business members utilize tools they wouldn't have licensed as individuals or small corporations. Since the vast majority of my consultant work is done remotely, I relish these reference/training hours in which I have actual face-time with executives who represent the future of medical science. They are the ones who inspire me, if I occasionally stop to wonder if what I do is of value!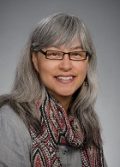 ABOUT Carolyn Martin
Carolyn Martin is the Outreach and Education Coordinator for the NNLM Region 5. She works with various libraries and community organizations to increase health literacy in their communities.
Email author View all posts by Carolyn Martin