Webinar: NLM and Support for Health Services Research
Posted by Michele Spatz on August 13th, 2020 Posted in: News from NLM
Tags: Health Services Research, HSR, nlm, NLM Products, NLM Services
---
Please join us!
What:
NLM and Support for Health Services Research: Assessing Current Needs and Planning for the Future 
When: Tuesday, August 18, 2020 from 9:00 AM – 10:00 AM (Pacific)
Where: https://nih.webex.com/nih/onstage/g.php?MTID=ee612cab52947d58f79ae0664df8ad220 (No Registration Required)
About the webinar:  NLM is strategically evaluating all of its products so that they better align with the needs of the communities that we serve. This webinar is one part of a larger evaluation plan focused on assessing the needs of the HSR community and the quality, sustainability, and usefulness of NLM resources. Featuring a panel discussion with health services researchers led by Dr. Patricia Flatley Brennan, the discussion will focus three questions:
1. Tell us how you use NLM products and services?
2. What tools, products, or health services literature are the most critical for NLM to collect or support?
3. What health services research areas or policy topics are the most critical for NLM to support?
Panelists include:
Patricia Flatley Brennan, RN, PhD, Director, National Library of Medicine
Doug Joubert, MS, MLIS, Head of User Services and NICHSR, National Library of Medicine
Patricia Gallagher, MLS, MA, AHIP, National Library of Medicine
Peter J. Embi, MD, MS, FACP, FACMI, FAMIA, President & CEO, Regenstrief Institute, Inc.
Anthony K. Wutoh, PhD, RPh, Provost and Chief Academic Officer, Howard University
Nate C. Apathy, PhD, Postdoctoral Fellow, Health Services Research, University of Pennsylvania Leonard Davis Institute for Health Economics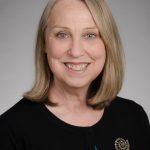 ABOUT Michele Spatz
Michele is the NNLM Region 5 Outreach and Engagement Coordinator. She has extensive experience providing consumer health information and a passion for health literacy. Michele truly believes, "Because of you, Libraries Transform.®"
Email author Visit author's website View all posts by Michele Spatz