A New PubMed is Coming Soon
Posted by Emily Hamstra on October 2nd, 2019 Posted in: Blog, Training & Education
Tags: Pubmed, PubMed.gov
---
A new PubMed, with an updated interface and infrastructure, is coming soon! We'll continue to receive information and announcements from NLM in the coming months.
In the new PubMed, you'll continue to have access to your favorite features, and you'll have access to exciting new features. The new and improved features include; improved navigation, a cite feature, highlighted keywords in search results, enhanced synonymy, enhanced American / British English language mapping, improved sensors for citation searching, improved best match filtering, and more. The new PubMed interface is responsive, for an improved mobile experience. Searching best practices in PubMed are the same best practices for searching in the new PubMed.
You can test the new interface and many new features in PubMed Labs.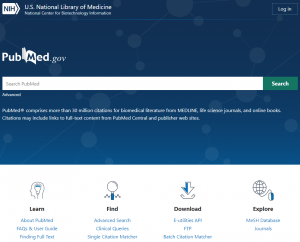 The webinar "A New PubMed: Updates for Information Professionals" was offered in September and filled quickly. If you were not able to attend, you can view the recording. Additionally, NNLM is offering a reprise of the webinar "The New PubMed" on November 20th as part of the "NNLM Resource Picks" series, with no cap on the number of attendees. (Download and share the promotional flyer).
More information will be coming soon from NLM. To keep current:
Questions or feedback? Go to PubMed Labs and click the "feedback" link.
ABOUT Emily Hamstra
Emily Hamstra is the Outreach Coordinator for the NNLM Pacific Northwest Region.
Email author Visit author's website View all posts by Emily Hamstra