#CiteNLM Wikipedia Edit-a-thon: Preventative Health and Wellness
Posted by Emily Hamstra on March 9th, 2020 Posted in: News from NLM, News from NNLM, News From NNLM PNR
Tags: citizen science, Edit-a-thon, training, Wikipedia
---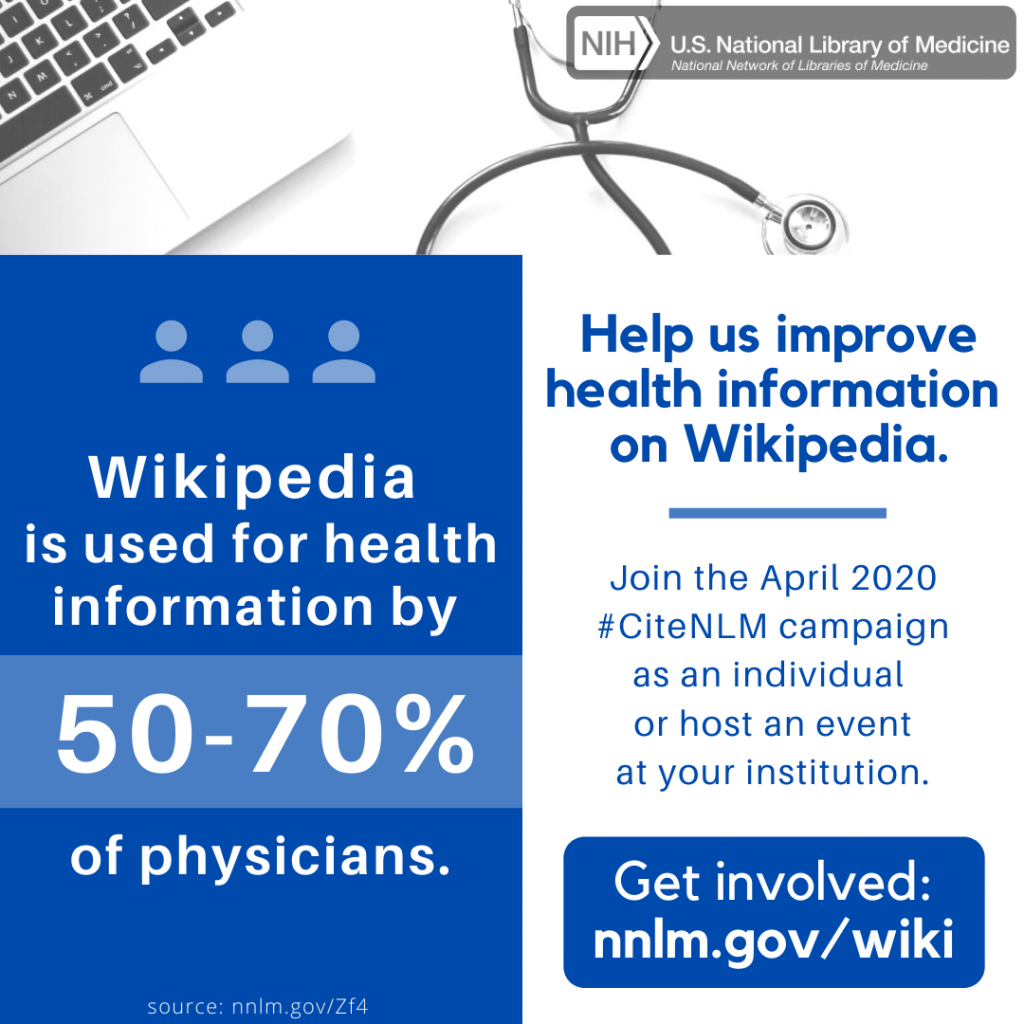 Wikipedia's health topics pages are visited nearly 7 billion times a year. Citing National Library of Medicine (NLM) resources in Wikipedia articles improves the credibility of the content. #CiteNLM is a campaign to improve the quality of Wikipedia's health-related articles. #CiteNLM Wikipeadia Edit-a-thons are held twice annually. The Spring #citeNLM Wikipedia Edit-a-thon, focusing on preventative health and wellness, will be held virtually on April 30, 2020. Libraries are encouraged to participate in the virtual edit-a-thon, or host their own events throughout the month of April.
To get ready for the upcoming #citeNLM Wikipedia Edit-a-thon, attend the training on Thursday, April 2 , 2020 (10-11am Alaska, 11-noon Pacific, noon-1pm Mountain).
When planning an Edit-a-thon event in your library, or to participate virtually on April 30th, sign up for the campaign on the #citeNLM Dashboard. The dashboard tracks involvement in the edit-a-thon.
Whether you've participated in #citeNLM Wikipedia Edit-a-thons in the past, or this is your first time, check out the Wikipedia Edit-a-thon guide for a comprehensive list of resources and information about participating in the #citeNLM event.
ABOUT Emily Hamstra
Emily Hamstra is the Outreach Coordinator for the NNLM Pacific Northwest Region.
Email author Visit author's website View all posts by Emily Hamstra