Data Flash: RIP PubMed Health
Posted by Ann Glusker on October 28th, 2018 Posted in: Data Science, Public Health
Tags: clinical effectiveness, public health, PubMed Health, PubMed.gov, search skills
---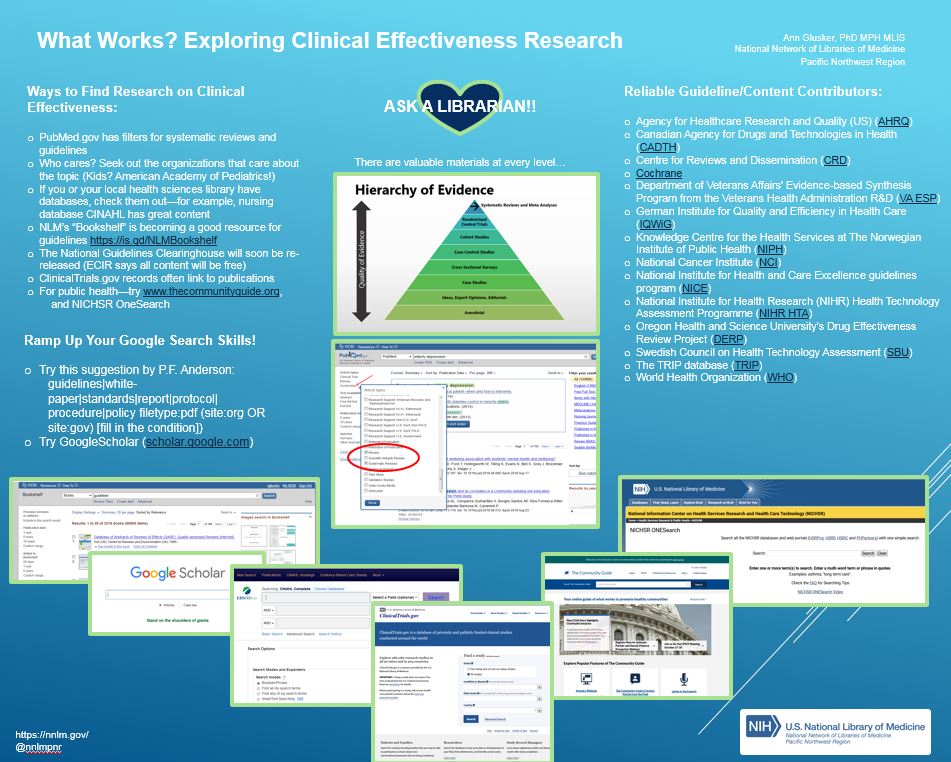 This is not exactly a data post, but, the loss of a trusted source for clinical effectiveness research will have its effects on the dataverse.  PubMed Health is being discontinued as of this coming Wednesday.  As any of my colleagues can tell you, I'm taking the loss of PubMed Health hard– I loved showing it to people at various conferences, and using it myself– I found it a wonderful mid-point between MedlinePlus.gov and PubMed.gov, and it also had some great methodology resources and a glossary.  All of its content will be findable in other ways though!
In thinking about how to proceed in future with finding clinical effectiveness research searching, I did some exploring and gathered my findings into a poster I presented recently at the Washington State Public Health Association conference.  Below, in list form, is the poster content–feel free to contact me at glusker (AT) uw.edu if you have any questions! And please send any suggestions for additions to these lists!
Check Out These Ways to Find Research on Clinical Effectiveness:
PubMed.gov has filters for systematic reviews and guidelines
Who cares? Seek out the organizations that care about the topic (Kids? American Academy of Pediatrics!)
If you or your local health sciences library have databases, check them out—for example, nursing database CINAHL has great content
NLM's "Bookshelf" is becoming a good resource for guidelines https://is.gd/NLMBookshelf
The National Guidelines Clearinghouse will soon be re-released by ECRI and they have said it will be open access!
ClinicalTrials.gov records often link to related publications
For public health—try www.thecommunityguide.org and NICHSR OneSearch (a federated search of four public health databases)
Ramp Up Your Google Search Skills! 
Try this string, created by P.F. Anderson for a recent Twitter chat: guidelines|white-paper|standards|report|protocol| procedure|policy filetype:pdf (site:org OR site:gov) [fill in the condition])
Try GoogleScholar (scholar.google.com)
Search for Content from Reliable Guideline/Content Contributors (the Ones PubMed Health used):
AND IF ALL ELSE FAILS, ASK A LIBRARIAN!
ABOUT Ann Glusker
Email author View all posts by Ann Glusker