Data Flash: Who doesn't love going to the fair?
Posted by Ann Glusker on September 28th, 2018 Posted in: Data Science, Training & Education
Tags: data fair, online education, open access
---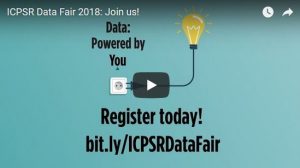 In this case, a free, online DATA FAIR!  Next week, October 1 through 5, ICPSR (the international data consortium/data archive/data education and research organization) will be holding the 2018 ICPSR Data Fair .  The number of offerings is impressive, and there's enough variety that there's something for everyone—diversity and inclusion, training, sharing, tools, and more.  You register for each session individually (but don't forget the Tweetchats!).   Best of all, no costs for registration or travel!
And, if online learning and participation is appealing, you might also consider involving your library or organization in International Open Access Week, October 22-28.  You can share a blog post about your open access "successes, challenges and ideas", and see what others are doing around the world.
Last but not least, let us know if you come across other opportunities like this that our Pacific Northwest colleagues might be interested in–we're always happy to spread the word!
ABOUT Ann Glusker
Email author View all posts by Ann Glusker