Geek Out At Your Own Pace
Posted by Alison Aldrich on January 26th, 2010 Posted in: News From NNLM PNR, Technology, Training & Education

---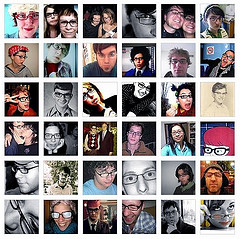 Last fall, NN/LM PNR offered the online course Geeks Bearing Gifts: Unwrapping New Technology Trends. This course provided participants with an introduction to social media and the opportunity for some hands-on practice.
The Pacific Northwest Region's "Geeks Bearing Gifts" course pages are now open for your self-paced learning and amusement. Each unit in the course consists of readings and videos to review for background information, step-by-step exercises to get you started using new Web tools, links to examples of how these tools are being implemented in libraries and/or public health settings, and a discussion forum where you can post questions, comments, and reflections.
The links below point to a login page for the NN/LM Moodle site (Moodle is our course management system). To see the course content, simply choose "Login as a guest." You will need to create a Moodle account or sign in with an existing account in order to post comments in the course discussion forums.
Web 2.0 Basics: Blogs & Wikis — Get a grip on what "Web 2.0" means and how it is changing the way we communicate. Then get some hands-on practice with blogs and wikis, two of the most well-established types of Web 2.0 tools.
Social Networking — Social networking sites, especially Facebook, YouTube, and Twitter, are wildly popular right now. Find out which social networking sites are the best match for your target demographic, then dive in and start exploring some online communities.
Managing Information Overload — Learn strategies to help you manage the flow of information and stay updated on topics that are important to you. This course covers social bookmarking, RSS, and e-mail management.
As with any course materials created for NN/LM classes, you are welcome to use and adapt the materials in Geeks Bearing Gifts for your own teaching purposes. Please contact Alison with any questions, comments, or suggestions.
ABOUT Alison Aldrich
Email author Visit author's website View all posts by Alison Aldrich