Science anytime, anywhere: Celebrate Citizen Science Month with the NNLM Reading Club
Posted by Michele Spatz on April 1st, 2020 Posted in: All of Us, Blog, Citizen Science, Health Literacy/Consumer Health, News From NNLM PNR, Public Libraries
Tags: All of Us, citizen science, consumer health, health literacy, NNLM reading Club, public library
---
Citizen science is collaborative research done by everyday people, anytime, anywhere, to help answer questions scientists can't answer alone. In order to turn curiosity into impact, Citizen Science Month is recognized annually in April to promote all things citizen science. Libraries can serve as a hub for citizen science in their communities by mobilizing patrons to get involved in collecting data and spreading the word about their efforts, and participants can develop a deeper engagement in scientific and health literacy through their active involvement in the scientific process. There are many citizen science projects that can be done in a backyard or from home. Our friends at SciStarter have easy citizen science ideas to share and even some health-related projects selected in collaboration with NLM.
To learn more, visit NNLM Reading Club Book Selections and Health Resources: Citizen Science. Choose one of the three featured books. Then either host a virtual book club discussion or, when your library reopens, download the discussion guide, promotional materials, and corresponding health information. Short on time? No worries! Apply for a a free NNLM Reading Club Book Kit.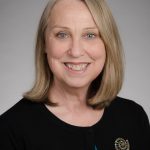 ABOUT Michele Spatz
Michele is the NNLM All of Us Community Engagement Coordinator for the Pacific Northwest. She has extensive experience providing consumer health information and a passion for health literacy. Michele truly believes, "Because of you, Libraries Transform.®"
Email author Visit author's website View all posts by Michele Spatz